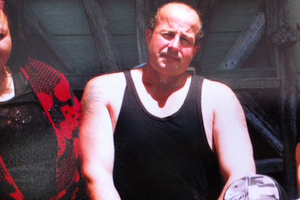 Two men wanted in connection to the death of a Featherston man are being hunted by police.
Police believe Kristofer Jones, 23, and Hayden Ranson, 27, have fled the greater Wellington region and are in the central or upper North Island.
Both men were wanted for aggravated burglary in connection with an attack on Glen Jones, Detective Inspector Sean Hansen said.
Mr Jones, 40, was the victim of an attack and was found bloodied and unconscious in his Fitzherbert St unit in Featherston soon after 12am on Saturday.
He died in Wellington Hospital about 5am that day.
Two women, aged 32 and 22, and a man aged 28 appeared in Masterton District Court this afternoon on related charges and did not enter pleas to a count each of entering a building while armed with intent to commit a crime.
Warrants to arrest the other two men were issued today, Mr Hansen said.
"We believe they are driving a blue 1989 Mitsubishi Mirage, registration OE7854.
"Members of the public are advised not to approach them and should immediately contact police,'' he said.
Police last night recovered three items which might have been used in the attack from an industrial property in Lower Hutt.
- APNZ