Has the younger generation abandoned the values that made New Zealand great ... or are we all just changing with the times?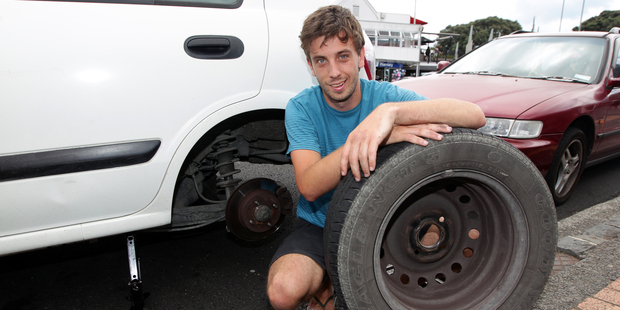 Nick Burridge is 23. He's a good Kiwi bloke. But can he change a car tyre?
"You should know how to change a tyre, cook a good steak and catch a fish," he said yesterday, summing up what he believed it meant to be a Kiwi.
The Herald on Sunday wanted to know whether such traditional beliefs are reflected in the lives of everyday New Zealanders, so we commissioned Nielsen to poll more than 3000 Kiwis.
Are we still a nation of people who can catch a fish, roll up our sleeves and fix something broken or cook a leg of lamb?
The results say no: our younger generations are not nearly so practical as their elders. About half of 18-29-year-olds who had had a flat tyre relied on others to solve the problem, compared with 21 per cent of people aged 60 and over.
The younger you are, the less likely you will be able to cook a lamb roast, catch a fish or even cook dinner for friends.
Burridge, an advertising industry cameraman of Kingsland, Auckland, was not sure when we approached him at Mission Bay yesterday and challenged him to change a tyre. He was hesitant. He'd changed one tyre successfully but another had a security nut that foiled his efforts.
But he certainly passed one test of "Kiwi-ness": he agreed to give it a go. He could probably manage, he said, but was certainly not confident.
Burridge bravely approached our car, jacked it up correctly, then put all his muscle into tightening rather than loosening the wheel nuts.
It wasn't looking good, but did it even matter? These days many drivers belong to roadside support organisations such as the Automobile Association and don't need to ever get their hands dirty.
Green MP Gareth Hughes, 31, said he'd have no trouble changing a tyre but, as a vegetarian, he couldn't cook a roast and he no longer fished.
"I went fishing 12 years ago," Hughes said. "I'd been a vegetarian for about a month and thought maybe if I catch the food myself I can eat it. I went fishing but all I caught was sunstroke."
In defence of the younger generation, he said statistics showed fewer young people bothered to get their driving licences so would have no need to change a tyre.
"I think New Zealand is changing," he said. "We're less monolithic culturally than we were three or four decades ago. We have almost unlimited choices as to what we do and people have really diverse interests.
"People just don't learn how to make a roast and a pav for dessert. We have all this ethnic cuisine and people are really experimenting, which I think is great," he said.
So are the days of No 8 wire, Buzzy Bees and pavlova gone? Absolutely not, said our experts. But it may be time to add a few more values and motifs of Kiwiana.
This week, MasterChef NZ winner Nadia Lim ripped apart the pav and created a new dessert of tangy lime, coconut and strawberry meringue crush - with a bit of kiwifruit, of course.
"We're a country of ideas, innovation, respect and beauty," she said. And with that, she cracked open the screwtop on a bottle of wine - another New Zealand innovation that may be a more relevant motif for Kiwi ingenuity than No 8 fencing wire.
With new technology, new immigrants and new lifestyles have come changing values - values such as risk-taking, problem-solving, laid-back irreverence, egalitarianism (still there!), diversity, optimism, warmth and hospitality.
AUT University sociologist Lindsay Neill said our values were changing and we needed new symbols to represent them - symbols more culturally meaningful than a "daft Womble-like Hobbit (or) a Jandal with a Maori motif printed on it".
Perhaps Lim's new deconstructed pavlova? Perhaps a screwtop bottle of wine or flat-white coffee? Perhaps the bungy jump or boogy board?
But not, it would seem, a tyre iron.
Back at Mission Bay, AA breakdown services mechanic Nagin Magan was on hand to check Burridge's work. He said the toughest part for most people was loosening tight nuts. "That's the wrong way," he explained, gently.
A triumphant Burridge got the wheel off, changed the tyre and let the car down again.
"That was reasonably easy," he said, holding up his blackened hands.
Three days ago, he'd ticked another box by landing a 65cm snapper.
"In this country you should absolutely know how to cook a good roast lamb too," he said, "and there's bonus points if you can brew your own beer." Which he could.
Burridge said his generation might be letting those old-fashioned practical skills slide somewhat, but they had abilities in other areas. "That's why our parents are constantly calling us saying 'I can't use my email'."