Five years ago this week a Taupo schoolboy brutally murdered a Scottish tourist. Now a local clergyman is trying to work with both their families to find hope for the future. Andrew Laxon reports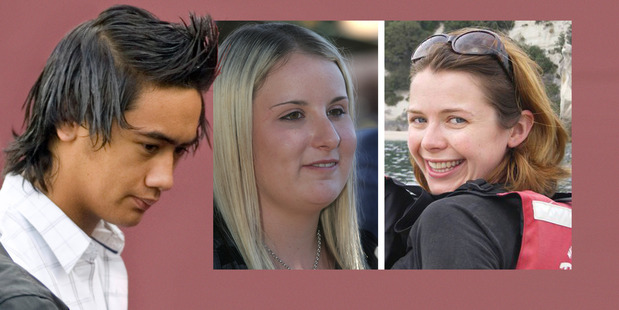 Thursday, January 17, 2008. On a warm summer's night in Taupo, the bars and restaurants along the lakefront were buzzing as crowds poured in for the international A1 Grand Prix motor race that weekend. Scottish backpacker Karen Aim had a swim in the lake after work, then joined her friends for a few drinks at nearby Mulligan's pub, where her Irish flatmate Collette Martin was working behind the bar.
Life was looking up for the 26-year-old from the remote Orkney Islands, who first visited New Zealand in 2006, fell in love with the country and came straight back the following year to live and work in Taupo. A passionate artist, she found a job in a local glass-blowing factory and a flat within walking distance of town. She was outgoing, fun-loving and, in the words of her Kiwi flatmate Lisa Hughes, the kind of girl "you met and fell in love with". She literally threw herself into the New Zealand experience - bungy jumping, skydiving and partying her way round the country - and kept a running online diary on her Bebo page, with pictures of herself at fancy dress parties as Karen the Super Scot and Cruella de Vil.
That night she and her friends stayed in Mulligan's until after midnight, before moving on to a couple of other backpacker bars. Aim left just before 2am, walked past the cheap ethnic restaurants in Tuwharetoa St and ducked into the BP Service Station on the corner to buy a pie. A security camera shows her walking out at 2.04am, wearing a denim skirt, a white singlet top and a black shoulder bag with her wallet and camera inside. It was the last time she was seen alive.
As she walked home past the primary school and the Pak 'n Save supermarket, 14-year-old Jahche (pronounced Jaa-chay) Broughton rode his retro chopper-style bike into the grounds of Taupo-nui-a-tia College, took out a baseball bat and began smashing windows and glass doors in a furious rage. He was a local boy from Nukuhau, a poor, predominantly Maori suburb not far from the town centre. Friends said he liked to quiff his gelled hair, show off his diamond earring and brag about his girlfriends on Bebo. Police youth aid officers also knew him well and it was not the first time he'd been out in the early hours of the morning causing trouble. But until recently there had been nothing like this.
Aim would have heard the noise as she reached the top of Ruapehu St and looked across the Spa Rd car yards to the school. Her normal route home was to cut across the college grounds, bringing her close to Broughton just as the school alarm sounded. Apparently realising he had been spotted, he jumped on his bike, still holding the baseball bat, and followed her down the street to an intersection just three houses away from her modest brick and tile flat. Outside the Happy Days Early Learning Centre, he smashed the bat into the left side of her face, making her fall over backwards. As she lay on the ground with her head on the concrete footpath, Broughton brought the bat down again, even harder this time, smashing the bones of her face and mouth and fracturing her skull.
A few minutes later Constable Matthew Barton was walking down Waikato St, looking for the vandals who had caused so much damage to the school. He found Aim's body lying in a pool of blood. Police told reporters the next day that she whispered her first name but soon lapsed into a coma. Later in court they simply said she made a gargling noise. At Taupo Hospital she was pronounced dead on arrival.
A VIDEO shows Karen Aim hurtling into space on a tandem skydive to the music of Tom Petty's Free Falling. Her smiling face fills the screen, then zooms away as the chute opens high above Lake Taupo on a bright, sunny day. On the ground and still pumped with adrenalin, she rushes forward to embrace the camera.
Aim's parents Brian and Peggy and her brother Alan watched the video with about 300 other mourners on a winter's day in East Mainland Church in Holm, the small Orkney village off the northern tip of Scotland where Aim grew up. The church is a grey, barn-like building with thick walls to keep out the cold. Brian, a local builder, is an elder there.
Inside Reverend Miriam Gross read a prayer from the Aim family. "We pray for the person or persons who fatally injured Karen. Forgive the pain brought over us by this taking of Karen's life and forgive their family as well."
Half a world away at a packed memorial service at St Paul's Union Church in Taupo, mourners heard the same prayer and Reverend John Howell echoed the message.
"Those who committed this murder must feel scared and afraid," he said. "Life must be hell for them, hiding and waiting. I want to say to them, it's time for you to have courage.
"Have the courage to accept the forgiveness offered by the Aim family and then come and share your secret with the police."
Mourners at both services remembered Aim's sunny, bubbly personality, summed up by her New Zealand-based great aunt, Violet Perfect, who grew up in Holm but now lives in Palmerston North.
"Whenever Karen stayed with us, the whole house changed as if a light had been switched on," she told the Taupo congregation. "She was the most out-there person we have ever known. She absolutely buzzed with life. She loved life; she loved New Zealand; she loved Taupo; she loved her job and she loved all her new friends."
The memorial service marked the start of a connection between the two communities. Aim's boss at the Lava Glass Blowing Studio, Christine Robb, donated a glass vase to the Aim family and a Taupo-based Air New Zealand international pilot, Hugh De Lautour took it to Orkney, ensuring the vase had its own seat on the plane from Heathrow onwards.
Howell carried on the connection, with help from the Taupo District Council and local Rotary group, by establishing an arts scholarship in Aim's memory. The first completed work was a sculpture by Taupo-nui-a-tia student Kate Bevan. It was a white female torso in an exaggerated hourglass shape, made of wire and paper mache and wrapped in bandages. Suede leather rosettes covered the neck and breast - one bright red for anger - and a fishtail plait ran down the middle, opening at the bottom to symbolise mourners letting go their grief.
In September this year Howell took the sculpture to Orkney and presented it to the East Mainland congregation. Then he told them how he had used it to talk to the teenage boy who killed Karen Aim.

Halfway through their first conversation, Howell put a photo of the Kate Bevan sculpture on the table in front of Jahche Broughton in the visiting room at Waikeria Prison.
"I thought to myself, 'he's either going to engage with this or tell me to mind my own business'," Howell told the Weekend Herald.
"He took it seriously. And that was a good thing, because it means he's starting to engage with the story, rather than deny it."
Broughton had remained an impassive figure throughout his court appearances, showing no emotion and further agonising the Aim family by trying to change his plea to not guilty, until he realised the evidence against him was overwhelming.
He admitted remorse through his lawyer - a necessary step for any defendant seeking a reduced prison sentence - but insisted throughout that he was only an accomplice to the real murderer, a mysterious Mongrel Mob figure called Bryan. Justice Graham Lang was not impressed as he sentenced Broughton to life imprisonment with no chance of parole for at least 12-and-a-half years.
"I am sentencing you on the basis that you, and you alone, were the person that attacked Ms Aim," he told Broughton in the High Court at Rotorua in March 2009. "There has never been a shred of evidence to suggest that anyone else was involved."
It was not a promising start for Howell but he felt the sculpture might succeed where words could not. Last year he worked through the prison chaplain to ask Broughton if he would like to know about Bevan's sculpture before its public unveiling at Easter. Broughton agreed and Howell made the hour and a half drive to see him in Te Ao Marama, the Maori focus unit at Waikeria Prison, near Te Awamutu. After passing through four security checks, he sat down with Broughton in the interview room, which overlooks a courtyard surrounded on the other three sides by prisoners' cells.
On his second visit, Howell says Broughton opened up to him about his life at the time of the murder. He can't repeat the details, not just because of professional confidentiality, but because they would put Broughton and others in danger. But he admits he was badly shaken.
"I was in tears by the end of that second visit. It just hit me in the guts. Can't say more than that. He told me the circumstances of his life and what led to the murder. I was the second person he has told (the first was the prison psychologist). On the third visit I obtained his consent to share that story with the Aims."
Howell says he knows criminals often tell lies about their past and that Broughton has told more than his fair share so far. He says he's sceptical about some aspects of his story but most of it rings true. And he anticipates the underlying question, which he is asked at his now regular speeches to Rotary on Broughton's progress.
"There'll be people ...who say 'why the hell are you visiting him?"'
He answers himself by quoting Jesus from Matthew 25 in the Bible, "I was sick and you took care of me, I was in prison and you visited me. Truly I tell you, just as you did it to one of the least of these who are members of my family, you did it to me."
Howell explains that he goes partly because he sees it as a duty and a privilege. "I do it quite deliberately to say 'we haven't forgotten you, you're part of our prayer and concern'. That message on its own does two things. One thing is it says to the Taupo community, 'this is not just about Karen Aim, it's about Jahche'. And the second thing is it's saying to Jahche 'I'm interested in what happens to you while you're in prison and when you get out'."
Howell, who is police chaplain for the Taupo-Turangi area, believes that public discussion about justice in New Zealand has been hijacked by the Sensible Sentencing Trust, which has generated a climate of fear among the public and pushed politicians into taking more populist policies based purely on retribution.
"They're literally saying 'lock 'em up and throw away the key'. There needs to be a priority on rehabilitation and ensuring that when (prisoners) return to society they're not just going to go through the whole process again so they're a lifelong criminal - but rather they can re-enter society in some way and we can start to value them for what they can give to us."
Broughton is a cousin of Raurangi Mark Marino, the teenager who raped a 5-year-old European girl staying in a caravan with her parents in a Turangi holiday park just before Christmas in 2011. The 16-year-old, who had drunk at least 20 bottles of beer before the attack, was sentenced in March to 10 years in prison.
Howell spent some time at the Turangi crime scene and is convinced there is a link, beyond the fact that the boys are related.
"What is it about our society that these young boys are committing these horrific crimes against tourists? People in this category are usually the products of a dysfunctional family but what is it about the family environment that's creating these kinds of monsters? What is it about our society that is failing to support families to come to terms with these kinds of issues?"
He argues that whether people like it or not, Broughton and Marino will probably be out of prison some day as relatively young men with much of their lives still ahead of them. Broughton will be 28 when he becomes eligible for parole in 2021.
"I'm suggesting that if you take these two cases, they are ticking time bombs and we need to start thinking seriously and not making it an issue around which fear is the motivating thing."

Broughton's mother Eugenie got pregnant at 16 when she was living at home in her family's green, single-storey weatherboard house opposite an overgrown sports ground in Nukuhau. Her parents, Monty and Moana, are members of the local Ratana church - Broughton was arrested for Aim's murder on a bus trip with his family to the church's annual conference - and heavily involved in local Maori immersion schools. It's a tough neighbourhood: neighbours are friendly when the Weekend Herald calls just before 9am but many working-aged adults and school-aged children are still at home and one mother, who smells strongly of alcohol, is on to her third beer.
Eugenie says she had no idea she was even pregnant but she was happy to have a baby boy. She called him Jahche Te Manawa Kawa Broughton - "Jah" for Jehovah, "che" for an Indian chief, "Te Manawa" meaning strong-hearted. The Broughton family are a mix of Irish and Tuwharetoa, with relatives all around the district through Monty's mother's side of the family. Eugenie says Jahche knows who his birth father is but he's never been part of his life. Until they split up recently, her former partner was his real dad.
The 37-year-old says Broughton loved music, sport - he was a Bay of Plenty hockey rep - and even school, which he attended regularly. Asked how he could go from such a happy childhood to committing a brutal murder, she replies, "I've never really got the answer to that one. At the end of the day I've accepted that he's taken responsibility for his involvement, for his actions. As a mother, though, I can only take the experience out of it and help my other children."
She says she doesn't want to blame his behaviour solely on alcohol and drugs because there were other factors involved.
"I could say that it's hormone-related. It's a whole lot of things really. It's society, it's our lifestyle. I don't know, I think maybe I spoilt him too much. Because all he ever got was love and support. Still does."
The court heard a similar story about Broughton's upbringing, which he described as "awesome". His mother and other family members were there to support him after his arrest and continue to visit him each month in prison.
But in an earlier interview with 60 Minutes soon after his sentencing, Eugenie admitted her son was struggling academically, dropping in and out of schools and getting into increasing trouble with the police, including for truancy and burglary.
She told the Weekend Herald that about the age of 12, "he was going through a bit of a rebellious stage". Child Youth and Family intervened and he was placed in a foster home with her family's agreement. It lasted only two months - "we missed him too much and brought him home".
Other evidence suggests that by this stage Broughton's life was going off the rails. A cousin told the court he was drinking alcohol and smoking cannabis from the age of 12 and police found a stash of pornographic videos and magazines under his bed when they searched the family house. By the age of 14 he was frequently drinking and roaming the streets at night - a pattern of behaviour that Taupo coroner Wallace Bain said he wanted to raise "head on" in his inquest finding last November as "a classic example of what can happen when young people are not properly supervised".
One of Broughton's regular drinking buddies was his "uncle", Leigh Herewini, his aunt's former partner and a security guard who helped Broughton cover up the savage bashing of another young woman about a fortnight before he killed Aim.

Zara Schofield was walking home from a party at 2.37am on January 5, when she realised someone was lurking behind her. The 17-year-old texted a friend for help but it was too late. She fended off the stranger's first attack but as she turned to leave, he smashed her on the head with a rock he had picked up from a nearby garden. Schofield kicked out again at the male wearing a diamond earring as she lay on the ground but he continued to hit her with the rock until she lost consciousness. Then he stole her pink handbag.
It was Broughton, who had earlier tried to gatecrash the party with a 40-ounce bottle of vodka and a drunken friend. When they were turned away after midnight, they went up the road to Herewini's house but he was busy with his security rounds. As his friend lay passed-out on the driveway, Broughton headed back to the party and came across Schofield walking home. His attack left her with 10 head wounds that required 30 stitches.
Now 22, the chef - who remembers Aim well as they once worked in a Taupo cafe together - still doesn't understand why Broughton attacked her or used such extreme violence to steal a handbag. She didn't know him, so the attack wasn't personal and she hadn't seen him at the party earlier. "I wouldn't have a clue," she says, remembering the assault five years later. "I have no idea what his intentions were."
Afterwards Broughton went back to Herewini's house with blood all over his hands and T-shirt. He told Herewini he'd been in a fight at the party and "might have broken the other guy's nose".
Herewini took Broughton to an outside tap to wash his hands, put the bloodied T-shirt in the washing machine and gave Broughton a clean one to wear. The pair then went through Schofield's handbag, found $40 in her purse and took $20 each. Herewini hid the handbag in bush at the back of his property and drove Broughton home.
Meanwhile, Schofield had regained consciousness and staggered to a nearby house. Police used a tracker dog to follow the scent and were waiting for Herewini in his driveway when he returned.
Herewini later got rid of the handbag in scrub near a sewage plant. As the attack made headlines, he quizzed Broughton, who told him he had never attacked Schofield and that he found the handbag on the footpath.
By coincidence, Herewini was on duty when Broughton smashed the windows of Taupo-nui-a-tia College two weeks later. He responded to the alarm and was with the police when they found Aim's body.

The Aim family have a long association with New Zealand. Brian travelled here twice, the first time in 1976 as a 19-year-old with his 65-year-old grandfather, John. He remembers his daughter declaring in primary school that she wanted to travel.
She left Orkney at 16 to go to Dundee University for an honours degree in printed textiles and worked at Marks & Spencers department stores in Edinburgh and Aberdeen, where she became acting manager. Tired of the stress, she went backpacking with friends to Thailand, Australia and New Zealand in 2006 and decided to go back on a working holiday in Taupo in October the following year.
Brian's aunt, Violet Perfect, told her memorial service how Aim arrived in New Zealand, bought a cheap car on the spot and, just like her father, suggested a tour of the South Island to her 68-year-old aunt.
"I wish I had a dollar for every time she said; 'Violet, I'm so excited'. She said that as we were approaching Wellington and told me that she had never driven outside of Orkney."
Aim's online diary recounted the trip with gusto, amid pictures of her bungy jumping, white water rafting and partying with friends.
"Can't believe I've been away nearly a month now, argh where is the time going??" she wrote. "We've spent the last 2 weeks touring the South Island in me '94 Toyota Corolla ... luvin' it being able to go when and where ever you fancy.
"Lots of stories, dirty jokes and drinking black russians every night in hostels! ... gone down the West Coast of the South Island, seen Abel Tasman National Park (beautiful sandy beaches and bays) then via Franz Josef (glaciers and mountains), Wanaka, Queenstown, Milford Sound (absolutely stunning and pretty mind-blowing place)."
In Taupo she applied for a job waitressing at the Lava Glass Blowing Studio, where owner Christine Robb soon asked her to help manage the gallery. Brian fondly recalls a story about her bluffing her way through one early glass-blowing demonstration in front of a busload of tourists.
He admits he never really appreciated her artistic talent while she was alive. An exhibition in Orkney after her death showed childhood diaries full of pictures of her favourite sweets and television characters and stories of long summers growing up on the island. Her brother Alan told the Scottish Sunday Mail that Aim was using the diary as the inspiration for a children's book about a little island girl. It was to be called Peedie Buddo - Orcadian for "small friend".
"I never realised until I saw the whole display how she had progressed," says Brian. "My mother, that's Karen's granny, she's an artist as well ... When my mother took her artwork down from the attic, Karen said, 'Granny, this is spooky'. It was so similar."
AS AIM lay unconscious and dying on the footpath, Broughton lifted her skirt, ripped her underwear and left her exposed for the world to see. He took her handbag and then, for reasons which have never been explained, removed her purse and left it sitting on her body. He rode around the corner, hid her sunglasses and makeup in some bushes and rode home with the handbag, camera and baseball bat.
The next morning he rang Herewini to ask if he had heard about "the girl". He told Herewini that "Bryan", a Mongrel Mob prospect, had visited his house, borrowed his bike and baseball bat and committed the murder.
Herewini came around a few days later to pick up his son and Broughton told him Bryan's bat was still under the house. He showed it to Herewini, saying he had tried to wash the blood off. When Herewini asked if "Bryan" was going to turn himself in, Broughton said no.
Herewini finally went to the police, who searched the house. They found Aim's missing camera, with most of her travel photos deleted and replaced by pictures of Broughton and his family. Her stolen handbag was sitting under rubbish on top of the incinerator. The baseball bat was embedded with glass from the college windows and had Aim's blood on it.
Broughton tried to claim he used the bat to smash bottles but didn't know that he'd been under police surveillance since the day after the murder. Detectives, who had suspected him of the first attack but lacked proof, immediately matched the CCTV footage from the college with Schofield's description of her attacker and realised with mixed feelings that they already had their man.
Later a cousin told police that as media coverage grew, Broughton would watch the news on television. "Jahche would look over at me and go 'oooh' when they came up with new evidence. I'd pull this expression on my face, 'they're going to catch you' and he would pull a face back."
Herewini received a five-month home detention sentence for his part in the Schofield attack but details of his role were suppressed until Broughton's sentencing. At an earlier depositions hearing he admitted that cannabis and "material suggesting possession of methamphetamine" had been found at his house.

Eugenie Broughton visits her son in prison every month, along with the rest of her family. The Corrections Department refused to allow an interview or give any report on his progress but he is in Te Ao Marama, which only takes prisoners with a drug-free, good behavioural record. Eugenie thinks he is less angry now and says he is mentoring younger prisoners. She says he wants to help people when he gets out, although she's unsure how.
Brian Aim wants to see Broughton change but is sceptical, based on his sudden attempt to plead not guilty and refusal to face up to his crime. After the sentencing he spoke to Eugenie and her sister Josephine, and asked to speak to Broughton but was turned down.
"His mother said she didn't want to put her son through the pressure of meeting me," he recalls incredulously. He wasn't looking for an apology or even an explanation why - just an honest account of what really happened in the last few minutes of his daughter's life.
"We wanted to find out from the one person who knew what happened that night whether Karen was chased and terrified before she was murdered or was she murdered from behind and never knew the incident ever happened."
Broughton's refusal to admit what he did even though he eventually pleaded guilty has confused and angered many people involved in the case. One theory is that he still can't face admitting the enormity of his crime to his own family, who continue to see him as their beloved boy, incapable of such actions. It's a common mindset in cases involving shocking violence or sexual abuse, as criminals formally acknowledge guilt to the court but cannot bear to do the same to their loved ones.
Brian Aim later wrote to the police, asking what kind of prison Broughton was in and how he was getting on. He is following John Howell's efforts with interest, including Broughton's account of his life circumstances, but has pulled back from his own attempt to engage with his daughter's killer. "We're coming to New Zealand again some time within the next few years and I might make contact with him then. I just don't have the same necessity to speak to him that I did."
He has also written a letter to the Parole Board to be opened when Broughton applies for parole, arguing that he should remain in prison for the rest of his life.
Schofield is equally sceptical. "He could turn his world around but there's a reason he went in there. There can't be a lot that's going to change his mind."
Howell has visited Broughton six times. He gave him a book of prayers and bought the family gift vouchers for Christmas on his behalf, with Broughton writing a letter to accompany the present.
He says the 19-year-old is still in denial about the murder but this is normal. Prisoners often go through the same stages of grief as victims, and denial is the first stage on the road to acceptance. The important thing, he argues, is that he is willing to talk.
One of his Rotary audience recently asked if there was any hope for Broughton. Howell didn't try to sugar-coat the answer. "I said, 'He's got a lot of work to do'."