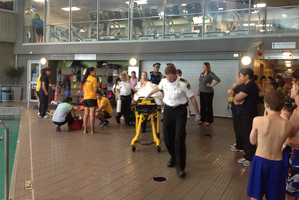 A 10-year-old boy was last night in a serious condition in hospital after an incident at an Auckland swimming pool.
Emergency services were called to the West Wave Aquatic Centre in Henderson at 3pm.
It is understood the boy had been swimming in the main pool when he got into trouble.
Members of the public - including many children - were evacuated from the pool as lifeguards worked to retrieve the boy.
They had already started CPR on the youngster when medical staff arrived. Pool users applauded when it appeared the boy would live.
A spokeswoman for northern ambulance communications said the boy was taken to the Starship children's hospital. Police were called to the scene by ambulance staff, she said.
West Wave centre manager Kate Meacham said staff were quick to act when they realised someone was in trouble.
"It is a very busy time of the year and our lifeguards are trained to deal with situations such as this.
"Other pool users were extremely helpful and ensured we were able to deal with the matter swiftly and take care of the child until emergency services arrived," Ms Meacham said.
One member of the public said it was an awful thing to see.
"We saw him lying on the stretcher ... He needed to be resuscitated so he must have been in a bad way.
"The pool was so still and everyone was around watching. When the ambulance took him out and everyone knew he was alive and going to be okay, the whole place just erupted in a spontaneous applause."
The swimming centre is owned by Auckland Council and is a popular choice for many, offering a competition diving pool and hydro slide.