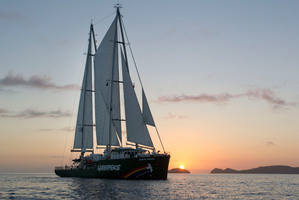 The new Greenpeace flagship Rainbow Warrior made its first public appearance in New Zealand today when its crew visited Northland's Matauri Bay, described as "the spiritual home" of the environmental organisation's ships.
They paid tribute to the original Rainbow Warrior, bombed by French agents in 1985, and to Ngati Kura, the guardians of the old ship's gravesite on the seabed surrounded by the picturesque Cavalli Islands.
The new ship is Greenpeace's first purpose-built vessel and was paid for by worldwide donations.
Kuia and kaumatua from Ngati Kura and Ngati Rehia were taken out to the ship for a blessing and a whakatau (formal welcome) in blazing sunshine around 11am.
Among the speakers was captain Joel Stewart, who thanked Ngati Kura for giving the first Rainbow Warrior such an inspiring resting place and for giving all Greenpeace ships a spiritual home.
By visiting Matauri Bay the crew was accepting the baton from the first and second ships, and the duty of caring for Mother Earth.
For more articles from this region, go to Northern Advocate