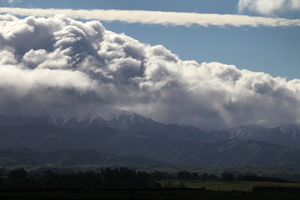 A short-lived scorching weekend will make way for heavy rain and gales this week.
On Saturday, many South Island centres hit temperatures in the mid-30s, and unofficially the mercury was closing in on 40 degrees in some sheltered areas.
Dunedin airport had a near-record high with a maximum of 34C, and yesterday it was Murchison's turn to reach 34C.
Metservice said an area of low pressure was moving away to the east, as a west to south-west flow spreads across the country.
It would bring stronger winds and gales to central parts of the country and exposed parts of Northland and Auckland, MetService spokesman Ramon Oosterkamp said.
On Wednesday, an active front would then move onto the South Island, bringing heavy rain in the west, as well as gale or severe gale north-west winds in the east.
"The western and alpine areas of the South Island may see another period of heavy rain, which may pose problems to those areas affected by the wet weather of last week,'' he said.
Heavy rain in Westland, Nelson and Buller last week washed away a bridge and caused holiday traffic mayhem.
The wild weather washed out Wanganui River bridge at Harihari, south of Hokitika, on Wednesday, forcing holidaymakers to make lengthy detours.
From north Otago to Wairarapa north-west winds would strengthen on Wednesday, possibly rising to severe gale.
"Temperatures will rise into the high twenties, and may exceed thirty for some, to go with these blustery conditions,'' he said.
Settled conditions were likely for the end of the week, as a new high builds over the country.