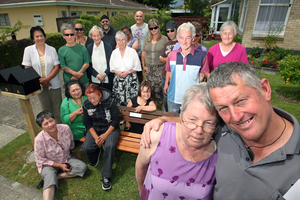 The memory of Rotorua murder victim Michelle Hoffman-Tamm has been honoured by her neighbours with the unveiling of a park bench and a time capsule.
The "self-appointed sheriff" of Phillip St, Ms Hoffman-Tamm was known to keep a watchful eye on everyone, helping them out in any situation.
Now residents of the street are ensuring her memory lives on.
Ms Hoffman-Tamm, 51, went missing on November 7. Her mutilated body was found in a makeshift grave near Murupara 16 days later.
She had been stabbed 33 times by 44-year-old Gwenda Leigh Sloane, who has admitted murdering her well-liked lover and will be sentenced in Rotorua on February 4.
Ms Hoffman-Tamm's ears had been hacked off and one stuffed in her mouth.
Phillip St residents and Ms Hoffman-Tamm's family want her to be remembered for her generosity and caring nature which was afforded to everyone she met, especially other residents in her street who "adored" her.
About 20 or so Phillip St residents held a commemoration in the street yesterday [06/12] afternoon, sharing their personal memories, poems, jokes, stories and anecdotes.
The group then set up a restored bench seat, fixed up by Robert Van Den Akker, with a plaque bearing Ms Hoffman-Tamm's name, where people can go and sit to remember her.
The readings were put in a memory box which will be inserted into the frame of a home in Phillip St which Ms Hoffman-Tamm helped restore.
Neighbour and street Neighbourhood Support co-ordinator Sandra Bristowe said many people felt Ms Hoffman-Tamm needed to be remembered for her caring and loving nature, not the violent way in which her life ended.
"She was very popular ... nothing escaped her," she said. "She kept an eye on everyone and would regularly call in and check on people. She'd tell everyone off in a caring way.
"I remember there was an elderly lady up a ladder across the road and Michelle just marched over and told her to get down and she did the job herself.
"That's the type of person she was. She'd give the shirt off her own back to anyone in need."
Many of the people who knew Ms Hoffman-Tamm had been upset about some of the information which had come out about her, hence the reason for the commemoration, Ms Bristowe said.
"We wanted to honour her and lift her name up because that wasn't the person she was. This street was really special to her ... she'd drive you to distraction but you couldn't help but love her.
"She was very popular," said neighbour Tracey McLeod. "In a way, she was the street. She was a self-appointed sheriff ... nothing escaped her."
The time capsule was a way of sharing Ms Hoffman-Tamm with future residents, Mrs McLeod said. "It is hoped Michelle's memory will live on."
Ms Hoffman-Tamm's sister, Jan Donlan, said it was very hard for her.
She was excited about the restored bench seat which everyone would be able to sit on.
Ms Hoffman-Tamm would have been stoked to know it had been a pre-loved seat, Ms Donlan said. "She never wasted anything ... she was the recycling queen."
For more articles from this region, go to Rotorua Daily Post