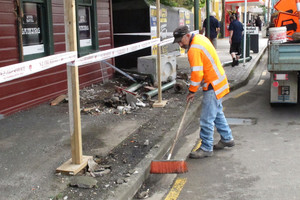 An out-of-control car came close to demolishing one of Northland's oldest hotels when it skittled all but two of the pillars holding up its first floor verandah.
The accident occurred about 11.30pm on Thursday when a 4WD heading south through Kawakawa left the road and smashed through five of the seven steel pillars holding up the Star Hotel's verandah and a first floor room.
That left the balcony of the 1879 pub teetering precariously and supported only by two posts at the far end of the building. The vehicle would have kept going but for a heavy concrete planter in front of the second-to-last pillar.
Firefighters and publican Frank Gardiner scrambled to find a builder who put up temporary supports early yesterday morning. The rest of the building was undamaged, except where flying pillars smashed a window frame and a sign.
Eleanor Gardiner said about 10 people were in the pub when it was hit. She was playing pool with her daughter from Wellington who thought it was an earthquake.
"But I knew straight away someone had hit the building. The ladies in the pokies room jumped up, they thought they were going to be hit."
Mrs Gardiner sent her husband outside while she called the police, who in turn alerted St John and the Fire Brigade.
Sergeant Nathan Davis, of Kawakawa police, said the driver and sole occupant, believed to be a man in his 50s, was uninjured and had been processed for drink-driving. Police were now awaiting the results of lab tests before deciding on charges. The manner of his driving was also being investigated.
A Kawakawa resident woken by the crash said he saw the driver walking nonchalantly, if unsteadily, away from the wreckage.
For more articles from this region, go to Northern Advocate