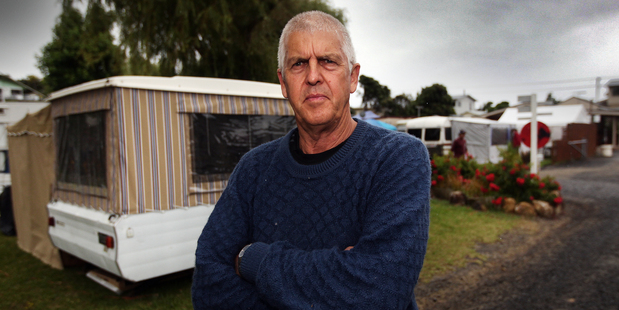 A man who spent days in intensive care after a brawl allegedly involving ex All Black Keith Robinson 11 years ago has met the man Robinson bashed last month.
The former manager of the Kuaotunu Campground, Mike Savage, claims rugby officials turned up at the Coromandel holiday spot with tickets to Chiefs matches for campers after a violent New Year's Day fracas in 2002, though Chiefs management say they have no record of any such offers.
Savage, 61, offered his support on Friday to the man Robinson hit, pelted with bottles and left unconscious outside a Te Aroha pub on December 9. The man bashed in the latest incident is reluctant to comment.
The attack and aftermath in the courts has divided opinion in Te Aroha. Some have voiced support for the victim but others have backed their most famous son.
Savage and his wife Liz visited the Ema St business where Robinson's recent victim works. Around Christmas, Robinson's father Jock was trespassed from the same business after he confronted staff and allegedly accused them of reporting the bashing to police. Jock allegedly made a gun gesture at staff as he left and police said they were investigating.
Savage said the victim was worried about being a target for Robinson's supporters but had also received backing from many in the Waikato town of 4000.
Savage broke his silence after the Herald on Sunday last week reported Robinson pleaded guilty to a charge of injuring with intent to injure for the December assault.
"It's been haunting me for years," Savage said of his incident.
In 2002, Robinson and his brother Mike were at the campground when chaos erupted. Savage said a brawl broke out when the then-aspiring All Black fell on to a tent where children were sleeping.
Savage was trying to break up the melee when someone decked him. Savage collapsed in the surf the next day and was flown to Waikato Hospital, where he spent six days in intensive care. Another longer stint in hospital followed, after he sustained a massive brain bleed and was put in an induced coma.
Savage said he was in hospital but he was told Chiefs officials visited the campsite, handing free passes to watch the team at Waikato Stadium, a claim present-day rugby management could not confirm or refute.
Savage said he was later given an autographed $20 note as an apology. He said Robinson came to his home after he left hospital. No one was charged.
"With the apology, he gave me a $20 note with his signature on it, as if it was meant to mean something."
Savage said he burned the note in disgust. "I haven't been able to stand rugby ever since," the former provincial representative player said.
Chiefs boss Gary Dawson said there was no attempt to hush up the incident and the matter went through proper processes.
He said the 2002 incident marked a difficult time for everyone. "If the team manager or someone made an offer, it was without the official sanction of the Chiefs management."
Robinson will be sentenced for the Te Aroha incident in Hamilton District Court on January 29.