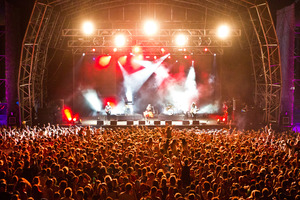 The 10th anniversary Rhythm and Vines music festival lived up to expectations as 30,000 people welcomed 2013 with fireworks - eventually - at the biggest New Year event in the country.
The impressive music line-up was a reward for many who had travelled the distance to Gisborne, with 8000 people camping on-site and a further 14,000 at Baywatch campgrounds.
Kiwi darling Ruby Frost took the Rhythm stage early on the final evening, impressing the crowds with a range of electric pop ballads in a silver space suit.
The 25-year-old said this was the third time she had played at Rhythm and Vines and the festival had become part of her summer ritual.
"The first time we played we camped out here. The festival has really helped me grow musically, allowing better time slots for people to hear the music.''
Another relatively-unknown act with a couple of well-known fashion labels behind them impressed crowds at the more intimate Cellar stage on New Year's Eve.
Huffer fashion director Steve Dunstan and Stolen Girlfriend's Club director Marc Moore make up the DJ set People of Paris.
Gisborne band Fighting Like Stags took the Jager stage before the countdown to a largely local crowd who came out in force to support their own.
Headline act The Presets were a magnet for festival-goers as they played a DJ set that got the crowds ready for the countdown to 2013 and set to watch an impressive fireworks display light up Waiohika Estate.
The display went off seven minutes after the clock struck 12, leaving crowds waiting until it was finally ignited in an impressive display - Bringing Rhythm and Vines to an end for another year.
Organisers are blaming the delay on a technical glitch.