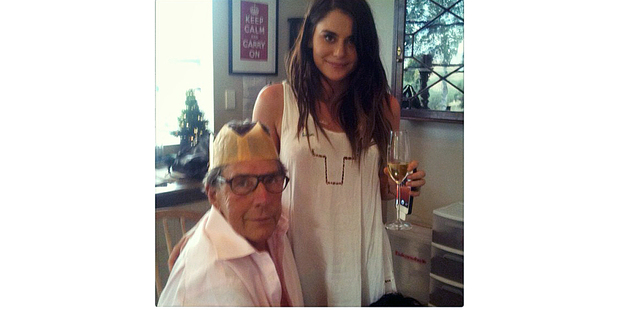 When Paul Holmes looks back, he says, 2012 will be his "annus horribilis".
"It's been difficult and it's not getting any easier," the seriously ill broadcaster revealed last night.
His "dicky heart" and the return of his cancer has knocked him down, but one bright spark has been the "wonderful" Christmas at home in Hawke's Bay with his family.
Despite his deteriorating health, Holmes managed to put on a party hat and celebrate Christmas with his wife Deborah and daughter Millie Elder-Holmes, who posted photos on Instagram of them at Mana Lodge.
One touching image was of the father and daughter holding hands during a "nap" on Christmas Day.
"Midday nap with daddy," she wrote. "Take it easy. Take it slow. Big morning."
Holmes' close friend Sir Peter Leitch said that there was plenty of life in his old mate still.
"I believe in miracles and, who knows, I would not write him off yet," Leitch said.
Looking back at the tough year, he said Holmes had handled himself with dignity. He commended him for being public about his health and potentially saving lives through his educational messages.
"Paul Holmes is like me, he shares his health to help others, not to get sympathy. He is a vibrant man and it is sad but we have to live with that. We all have to go one day but it's sad when it's your friend."
Close friend Michelle Boag said she spoke to Holmes on Boxing Day before flying to the Gold Coast for a holiday.
"He was in good spirits," Boag said. "All the family were in Hawke's Bay and he sounded happy to have them all there."
Boag held a party at SkyCity this year to thank Holmes for his contribution towards charities.

Do you have a special message for Paul? Email letters@hos.co.nz