Cancer survivor and PWC fanatic wants others to join him on six-day fundraising trip to Bay of Islands.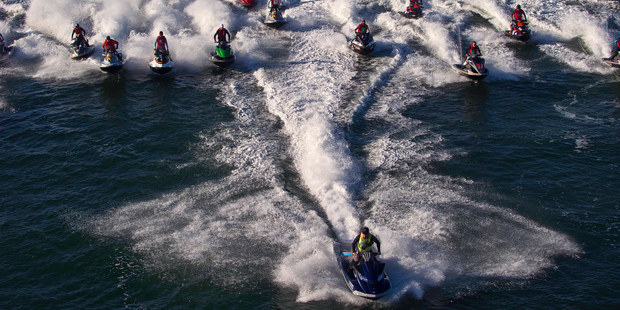 PWC (personal watercraft) owners don't always have the best of reputations. While they are usually having an enormous amount of fun, those in the vicinity often seem to be having rather less. Perhaps it is the machines' noise levels, their close proximity to other water users or simply the Mrs Grundy factor (hating to see anyone else having a good time).
Jeremy Burfoot, this country's best-known PWC campaigner, is hoping to present a rather different view of these fun "toys" and their owners. Burfoot first came to public attention when he attempted, with others, to ride a PWC from London to Sydney. Although ultimately unsuccessful in that endeavour, he was soon back on the water.
Earlier this year, at Lake Karapiro, he spent almost an entire day on his Yamaha VXR1800 Wave Runner, setting two new world records in the process. One was for the fastest 1000 kilometres on a PWC. Averaging more than 100km/h, Burfoot took just 9 hours and 48 minutes and smashed the previous record by 21 minutes.
The other was for the longest distance travelled on a PWC in six hours. To set the record, he covered an incredible 618 kilometres, an astonishing 106 km more than the previous record.
His latest venture is the Yamaha Melanoma Foundation Ski-NZ 2013, a 600km ride between Tauranga and the Bay of Islands, modelled on similar events in Australia.
If everything goes to plan, the large group of PWC owners will spend six days travelling up the North Island's east coast, raising both awareness and funds for the Melanoma Foundation of New Zealand.
Burfoot, a melanoma survivor, refers to the event as "a unique combination of fun and FUNdraising". He stresses that, while the event will almost certainly be a great adventure, there is a serious side to it as well.
Those who wish to enter have to commit to raising a minimum of $1500 in tax-deductible sponsorship; and Burfoot is hoping that the entrants' natural competitiveness will see them contribute even more.
"We are encouraging participants to compete with each other, to see who can raise the most sponsorship," he says.
Burfoot is also keen to stress that all of the money raised through these sponsorships will go directly to the Melanoma Foundation of New Zealand.
In order to fund the event, those taking part will also have to pay a $55 application fee and a $450 provisions fee.
"The provisions fee will cover the welcome dinner in Tauranga, lunch and dinner each day and the Saturday night final function in Russell," he says. "Entrants will also get a complimentary event T-shirt, hat and DVD."
He explains that an experienced team, including medical support, mechanics, PWC experts and on-water recovery crew will also accompany the fleet each day.
As part of the event's focus on safety, both from the sun and from the possible sea conditions, participants will only be allowed to compete if they have a well-maintained, sit-down PWC not older than 2005.
They will also be required to wear a lifejacket or personal flotation device, full-face helmet, eye protection, gloves and shoes. Organisers are also encouraging those entering to carry a personal locator beacon.
In keeping with the event's "awareness of melanoma" message, participants will also have to wear a full-length rash suit or wet suit for protection from the sun.
Competitors in the Yamaha Melanoma Foundation Ski-NZ 2013 will cover around 100km each day, along some of the most picturesque coastline in the country.
The event will start in Tauranga on Sunday, March 3 with registration, a briefing and a welcome barbecue. Then, on Monday morning, the fleet will leave Tauranga and head to Whitianga, with stops at Slipper Island and Pauanui.
On Tuesday, they will head first to Great Mercury Island and then around Cape Colville to Coromandel Town. Wednesday will see them visit Waiheke Island and Auckland before stopping at Takapuna for "auction night".
Thursday sees them off to Kawau and Omaha before a no doubt very welcome half-day spent exploring Matakana's renowned wineries.
"Friday's voyage is from Omaha to Marsden Cove for 'seafood night'," says Burfoot. "Our final leg is via the famous Hole in the Rock off Cape Brett and the event finishes with 'Last Night Madness', a huge celebration for everyone involved, in Russell."
He explains that the PWCs will be trailered on shore each night, meaning participants will also require some type of shore crew to follow the event by road.
Burfoot recognises that entering the event will clearly require a substantial commitment. Nevertheless, he is confident at least 45 riders will take part next March.
"We already have 15 entrants committed, three of whom are coming over from Australia especially for the event.
"We have also had expressions of interest from four UK riders, from a number of other Australians and even from a Romanian."
Burfoot has already convinced Yamaha Motor NZ to sponsor the fundraising challenge. He has also persuaded Yamaha's Brendan Grant to take part and is urging as many PWC owners and enthusiasts as possible to join in.
"If you are an adrenalin junkie or just love cruising around some of New Zealand's most iconic spots, with a like-minded group of adventurers, then the Yamaha Melanoma Foundation Ski-NZ 2013 has to be the 'must-do' event of 2013."

Entry details: Yamaha Melanoma Foundation Ski-NZ 2013
What: Raising money for and awareness of melanoma
When: March 3-9
Who: PWC riders (sit-down models only)
Where: Tauranga to Russell
Entry: $505 (application & provision fees)
$1500 raised in tax-deductible donations
Want to know more? Check out www.ski-nz.co.nz