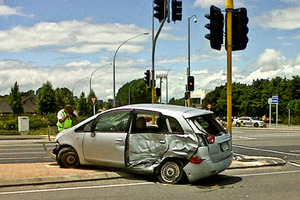 Police have located a suspended driver who allegedly fled a crash that killed a 71-year-old woman in Hamilton today.
The elderly woman was a rear passenger in a car that collided with a ute at the intersection of Te Rapa Rd and Avalon Dr about 12.35pm.
The woman died at the scene and four of her family members were taken to Waikato Hospital, Police Sergeant Phil Ruddell said.
One of them, a child, was believed to have suffered moderate injuries.
The ute allegedly fled the accident but was followed by a member of the public who called police.
"It was recovered by police at a Pukete address a short time later thanks to the assistance of that member of the public,'' Inspector Marcus Lynam said.
A 26-year-old woman, a suspended driver, had been located by police. She and the driver of the other car would be interviewed when all had received medical treatment, he said.
Mr Lynam said it was too early to determine if either driver was at fault and whether any charges would be laid over the crash, which happened at an intersection controlled by lights.
The dead woman became the first fatality of the official Christmas period.
It was not known if the family was from Hamilton.
"Condolences go out to the families of the people involved in this crash and also all of those witnesses who saw the crash, and my emergency services colleagues who've had to deal with such a thing on Christmas Day,'' Mr Ruddell said.
The official road toll period began at 4pm yesterday and ends at 6am on January 3.
Police have lowered their speed tolerance during the holiday period and are issuing tickets to drivers doing any more than 4km over the speed limit in an effort to keep the toll down.
Traffic cameras have also been set to issue tickets for this speed.
Waikato police are especially mindful of the holiday road toll, with 44 deaths from 40 crashes in the region already this year.
The region's road policing manager, Inspector Marcus Lynam, said this was the same number of fatalities as the combined Auckland metropolitan area and central police district.
"When you consider the population of greater Auckland and that central district incorporates the cities of Palmerston North, New Plymouth and Wanganui, the Waikato road toll with just one city in its borders is far too high.''
Road safety charity Brake urged drivers to make five pledges before getting behind the wheel: commit to slow, sober, secure, silent and sharp driving.
"The holiday season is particularly risky because families may be driving long distances, risking fatigue and speed in order to get somewhere quickly,'' said chief executive Mary Williams.
"But the outcome can be that you don't get there at all. Slow down, take it easy, and take regular breaks, and stay alive.''
Last year 19 people died and 381 were injured in crashes during the official Christmas holiday period.
In 2010/11 there were 12 fatalities, there were 13 in 2009/10 and 25 in 2008/09.
STAY SAFE
* Slow down in communities, on rural roads, and drive to the conditions.
* Don't drive after consuming any amount of alcohol or taking drugs, and be careful about driving the morning after drinking by planning ahead.
* Always wear a seatbelt, make sure everyone else in the vehicle is wearing a seatbelt and that children are in correctly-fitted child restraints. Also make sure you have done vehicle checks such as checking lights, tyres, mirrors and windscreen wipers before setting off.
* Have your phone switched off or on silent and out of reach. Minimise other distractions.
* Take breaks every two hours on long journeys. Don't drive if you are tired, ill or stressed.
- APNZ