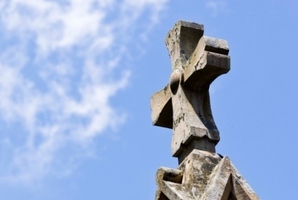 Westport's St Canice's parish priest says he has no qualms about holding Christmas services in the church, despite the building being a high earthquake risk.
An initial evaluation in September found the 37-year-old church was only 18 per cent compliant with new building standards.
It received the lowest rating of E, meaning it was 25 to 40 times more liable to collapse in a quake than a 100 per cent compliant building.
The parish decided to continue to hold services at the church and to close it at other times.
Fr Raymond Soriano said the church had had a second engineering assessment last month.
"The question I asked was 'should I close the church?'. He (the engineer) said 'no, continue using it'."
Fr Soriano said the results of the second engineering inspection would go directly to diocesan headquarters in Wellington, which would inform him of any new recommendations.
He wasn't concerned about holding Christmas Mass in the quake-prone building.
Engineers had advised that if a major quake struck, there could be a slow collapse of the area above the pulpit, so the person most in danger would be himself.
"I wasn't too worried at all."
St Canice's Phelan Hall, and the Karamea Church, have also been assessed and graded C. Phelan Hall meets 44 per cent of the building code, while the Karamea Church meets 36 per cent.
St Canice's Church was built in 1975. It was designed by acclaimed New Zealand architect John Scott around the shape of a fan. It's made from cast concrete or concrete block and features stained wood and coloured acrylic.
Scott's most famous building is the Chapel of Futuna in Karori, which won him an award from the New Zealand Institute of Architects.