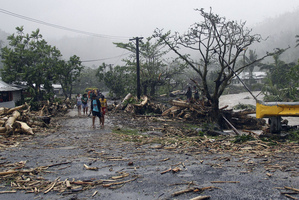 Northlanders are being warned of heavy rains and strong winds this weekend, the legacy of Tropical Cyclone Evan which caused widespread destruction in the Pacific earlier this week.
MetService today issued a severe weather watch for Northland with the remnants of the cyclone expected to pass over the region on Sunday and Christmas Eve.
The forecaster said the region may receive heavy bursts of heavy rain, and easterly winds reaching severe gale force at times.
Northland Civil Defence Emergency Management spokesman Graeme MacDonald said officials would be keeping a close eye on the weather.
"Northlanders are a pretty resilient lot and ... are familiar with those spots that regularly flood and/or slip during heavy rain events and usually take such things in their stride," he said.
The worst of the weather should have passed by Christmas Day.
Northland typically host to an influx of visitors at this time of year and both MetService and Civil Defence urged locals and visitors to follow weather forecasts closely from now on.
- APNZ