Convicted NZ conman Tony Allison is in jail in a Northland prison, but after a decade on the run across the Tasman Australian investors are questioning why he was allowed to get away with it for so long.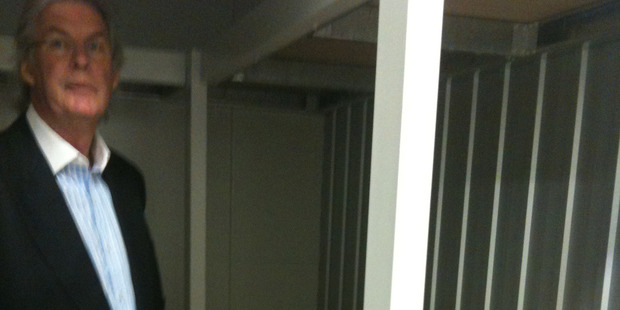 Tony Allison was known as the smooth-talking Kiwi who charmed his way into Sydney's moneyed set.
After moving to Sydney in 2000, the silver-haired lothario moved in with a multi-millionaire older woman and set up offices on Sydney's North Shore. He convinced his new friends and girlfriend that he was an astute businessman on to a money-making project.
The Pentridge Project was going to make Allison and his friends millions of dollars. The plan: to turn an 1860s Melbourne jail into bespoke wine cellars. The eight-feet thick bluestone walls would keep the wines of Melbourne's wealthy at a stable temperature, while turning a hot profit for savvy investors. He convinced his former de facto partner Carey Thomas to borrow $1.74 million against the value of her home in the exclusive suburb of Point Piper and her country home in the New South Wales southern highlands.
Court documents allege Allison told her: "Since you are putting up the money, you will be the sole owner of the Pentridge Project and you'll make a lot of money out of it."
Thomas, now in her 70s, has since lost both her homes, and an estimated 40 other investors, tradespeople and businesses may be out of pocket.
So how was Allison able to fleece millions of dollars from friends and investors in Australia?

Allison is claimed to have told his new friends that he had been inspired to move after watching Sydney host the Olympics in 2000. In reality, he fled New Zealand that year as the net closed in on him, having stolen more than $1m from clients and friends, many of whom he met through the Parnell Tennis Club.
The money disappeared on a lavish lifestyle and failed business ventures.
Facing bankruptcy in Auckland and ostracised by his family, he found Sydney untapped and dripping with money. Allison had contacts there - he would boast that he was mates with infamous stockbroker Rene Rivkin - and had access to boats and homes.
Sydney financier Michael Woodhouse, from Edge Financial Services, became good friends with Allison in the early 2000s and rented an office to him.
"A lot of people assumed that he was a man of wealth, a man of integrity, but we've all found out that he's not.
"A lot of us are in complete shock about what's happened."
Thomas has lost the most. She was 60-something and a wealthy stockholder when she was charmed by Allison. The pair became an item, and she alleges Allison convinced her to put up her two homes to secure the loans.
Allison took out million-dollar plus loans from a company called Driat to fund the scheme to turn Pentridge Prison in Melbourne into bespoke wine storage.
He convinced Thomas to take out a loan of $999,000 in 2010 and a second of $737,000 in 2011, after claiming he had negotiated to buy out other stakeholders at Pentridge. He told her he would turn the investment into $8m.
But rather than investing the full amount in the Pentridge Project, it appears that Allison used $200,000 of the money to pay reparations to the victims of his fraud back in New Zealand to get a reduced sentence, and spent $250,000 more on legal fees.
Meanwhile, he told friends that the redevelopment project was beset by delays.
Driat financiers took a civil action against Thomas and Allison, and are selling the houses to try to recoup their loans.
Thomas then launched a counter claim against Allison, saying that she didn't understand the loans.
She told a court that she trusted Allison but had no idea what she was investing in. She "was just being a good girl and signing everything".
Thomas apparently had no idea that Allison was a fugitive on the run from the law in his homeland.
She claimed that the first she knew something was wrong was when police arrived at their apartment to enforce extradition proceedings.
More creditors are coming out of the woodwork. According to Woodhouse, Allison could have "fleeced" as many as 40 people.
Two days before he was extradited Allison allegedly "fleeced" someone of $40,000, Woodhouse says.
"He grooms people, makes up a cock-and-bull story and he weasels money out of people."
Woodhouse is angry that Allison was able to set up and run businesses in Australia without any checks on his offending back in New Zealand.
"Why couldn't our Securities Commission have found out what he had been up to?" he says.
After the so-called "fake prince" Joel Morehu-Barlow's $16m rip-off of Australian taxpayers was uncovered, Queensland and New Zealand authorities started a six-month trial of information sharing for criminal history records. It's unclear whether this would have alerted offenders to Allison's crimes, as he only pleaded guilty in 2007.
Justice Minister Judith Collins said both governments were considering how to extend criminal history information requests from employers across Australia and New Zealand.

In a room on the sixth floor of a nondescript office block in Sydney's North Shore, the bills are still piling up.
Thousands of unpaid credit card statements, tax department bills, $20,000 in unpaid parking fines, all addressed to Anthony 'Tony' Allison.
"I think he's watched Dirty Rotten Scoundrels quite a few times and worked out how to be a conman," says Woodhouse.
Given the level of anger toward Allison, associates doubt he'll be back. But that decision could be made for him.
At least one creditor is preparing to launch criminal charges against him. The man, who alleges he is out of pocket by as much as $200,000, says he is keen to see Allison convicted in Australia.
"It's a loss based on a deception, which is fraud."
One burning question remains - no one seems to know where Allison spent the money. Certainly not on the unregistered, uninsured car that he drove.
Allison was extradited back to New Zealand in July and jailed for four-and-a-half years. Instead of the stunning views across Sydney Harbour Bridge that his former home afforded, he now lives in a cell in the Northland Regional Correctional Facility just outside of Ngawha.