Some mainstream New Zealand churches are struggling to keep their heads above the communion wine but other religions are thriving, building new churches, mosques and temples and gathering devoted worshippers in their thousands.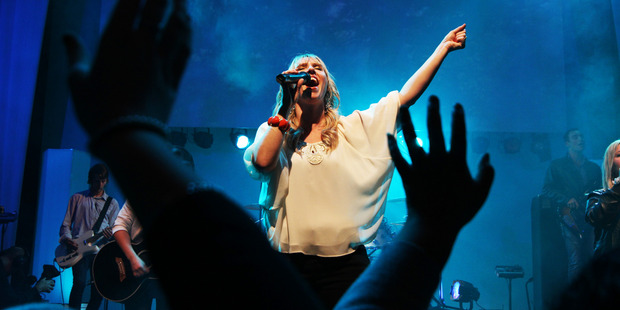 Banks of lights pulsate in waves of colour, and cameras project images on to three monstrous screens. And there is plenty of noise from a seven-piece electric band, bolstered by a retinue of backing singers. A lead vocalist, blonde, lithe and liberal in the use of facial contortions, hammers out her stuff.
Not a rock concert, but a church service. It's 10am on a Sunday and it's show time at the City Impact Church on Auckland's North Shore. The only thing missing in this 2000-seat auditorium is the dry ice.
It's big and flash enough to film New Zealand's Got Talent here. That was on Wednesdays and Thursdays - when Rachel, Jason and Ali sat in the bit down front that is now the Sabbath-day mosh pit.
Where once the NZGT judges passed judgment on the array of talent before them, now the voice of authority is coming from onstage.
"Hello, Church!" shrieks the blonde. Cue the first in a series of oft-repeated performances from the floor: a sea of arms waved above heads in jubilant salute.
Young arms are held high. Hesitant arms clearly belong to newer recruits. Arthritic arms challenge themselves to reach beyond their shoulders.
After 30 minutes of rousing decibels and volcanic anthems, senior Pastor Peter Mortlock appears on stage with the Bible in one hand, a giant microphone in the other. He's smart in a green shirt and dark suit. If his followers had just one hand held high before, their efforts are doubled now.
"Not an hour goes in my day without thinking about Jesus!" he bellows. Mortlock and the blonde songstress work as a well-rehearsed pair: a soundbite from the pastor is followed by an affirmation from the singer.
"Who's looking forward to the second coming of Jesus?' he roars, to plenty of applause. This, after sharing with his devoted audience the story about how he gave his life to the Lord and how he's just come back from a trip to Fiji - see, there are the holiday photos on the big screens showing him and wife Bev with a glass of wine.
Mortlock combined a bit of preaching in Fiji while celebrating his 40th wedding anniversary. "Forty years and still counting!" More drum rolls, more cheers.
It's what they call dynamic preaching, Pentecostal style. It will continue for a good 90 minutes, and will be repeated tonight at 6.30pm.
Can't make it to the North Shore to join the 3500 members? A second church has been built in Mt Wellington. Another 1500 members worship there, numbers a mainstream church in that area could only dream about.
City Impact also has churches in Queenstown, Invercargill and Balclutha - as well as Tonga and Canada.
A few kilometres away, another service is about to get under way. At the Church of Jesus Christ of Latter-day Saints in Takapuna, Mormons pull out wooden chairs to accommodate the expected overflow from the main hall, which seats 150.
They don't employ much in the way of electronic devices; the lighting is all natural and the only musical instrument is an organ. The most significant feature of these simple surrounds is the padded tissue box on the lectern.
Those tissues will be needed when Sister Stowers - formerly model and Shortland St actress Elizabeth Skeen - delivers her personal witness (see sidebar).
All Black great Jonah Lomu also helped boost the Latter-day Saints' profile after he and his wife, Nadene, were baptised into the church earlier this year.
Jared Viljoen, 31, is the church director of public affairs. Like others here with church roles, the work is done voluntarily by the father of three children under 5. On weekdays he's a case manager for Work and Income in West Auckland.
"I'm a true-blue Mormon," says Viljoen before the three-hour service starts. "I like the security and constancy the church provides - the teaching of Christ in a world so insecure and uncertain."
Rachael Bennallack, a 19-year-old nursing student, is one of the worshippers today. Her father is a member of the bishopric and she is preparing to serve a mission in Brisbane, where she will teach the gospel. "There's such a strong spirit. It's uplifting and I know the church is true," she says.
The congregation have clearly donned their Sunday best for church. The men (and some boys) wear suits and ties. The first hour is taken up by a sacrament meeting, conducted with a modest solemnity and reverence.
They share bread (fresh, white) and water towards the start of the service. It's handed out by male church elders as churchgoers sit at their pews.
An older couple in front, one with a hearing aid and white hair, hold hands throughout the hour.
At the back, a mother breastfeeds her baby while her three other young ones play quietly.
The congregation is mixed in ethnicity and age - but neither issue seems a determining factor in who's discreetly using mobile phones or tablets. The North Shore City Impact Church was built in the late 1980s. The Latter-day Saints venue was built in the 50s. Worshippers did all the work gratis at both.

While what were once considered fringe churches in New Zealand are thriving, the numbers don't look good for traditional mainstream churches.
While City Impact is testing its sound system on a Sunday morning, ready to entertain the masses, a lonely cluster of worshippers will be taking early-morning Holy Communion somewhere in a struggling suburban Anglican church.
In the last Census, three of the five largest Christian denominations recorded a drop in numbers. Furthermore, there was an overall decrease in people affiliating with Christian religions.
And although people may tick the box on Census night to confirm the religion they were born into, in reality many of them never go near a church or support it financially.
Numbers in traditional churches have been gradually dwindling since the late 60s. By contrast, the number of people affiliated with the Sikh religion, Hinduism or Islam recorded significant jumps in the last Census.
A clear illustration of this leap in membership lies at the Gurudwara Sri Kalgidhar (Sikh temple) in Auckland's Takanini.
Daljit Singh, spokesman for the Supreme Sikh Society, says when the Takanini temple opened seven years ago it welcomed 400 regular worshippers; now there are between 1500 and 2000 on a Sunday.
The temple was expected to meet the needs of the Sikh community for the next 40 years, "but we have numbers now which fill the whole prayer hall and the whole dining hall".
When Singh arrived in Auckland 23 years ago, there was just one Sikh temple in Otahuhu and 200 worshippers at most. Now there are 13 temples. Annual donations to the Otahuhu temple were $45,000 in 1989; last year the Otahuhu and Takanini temples recorded a combined annual donation of $670,000.
Why the increase in numbers? "Especially for our religion, we believe people are so stressed in their daily life, everyone is stressed somehow and they are getting very relaxed coming to the temple."
Also growing in numbers are the Muslim worshippers at a mosque in Ponsonby's Vermont St. In an unlikely example of East meets West, the mosque is across the road from the Catholic Sacred Heart Church and its adjoining St Columba Centre.
Built in the 1960s, Sacred Heart was designed to seat 400 with the help of an upstairs gallery - overflow that is no longer catered for regularly.
The main Sunday service still draws a good crowd, but Saturday evening Vigil Mass and weekday morning mass numbers are down. The mosque across the road, built in 1978, averages a turnout of 400, bolstered by migrant students from Islamic countries.
In the spirit of neighbourliness, the Sacred Heart church lets mosque worshippers use its carpark - a premium deal on inner-city streets - on Muslim prayer days.
The gesture is reciprocated by the mosque when big events in the Christian calendar mean there is no more room in the church's carpark for Sacred Heart attendees.
"We have a nice relationship with our Christian neighbours across the road," says Brother Firoz Patel. "Once a quarter we have a get-together with the Council of Christians and Muslims. We choose a subject and the topic is debated from both points of view."
It's a great arrangement, Patel says. "We open the doors for them and they open the doors for us. We work together for a peaceful community."
Sacred Heart parish priest, Father Steve Lowe, agrees. The next thing he plans to do is invite the mosque's imam and his wife for dinner.

Happy to be back in the Mormon fold
Today, Sister Stowers is sharing her experience of how she found her saviour with the congregation at the Church of Jesus Christ of Latter-day Saints.
In another life, she was a model and actress, playing the part of TP in Shortland St in the early 90s. She also appeared in Whale Rider and Street Legal.
Stowers, 39, delivers an emotional and unrehearsed address to the congregation, telling them about her 10-year break from the church. "I was convinced it would bring me a better life. Boy, was I wrong," she says.
Stowers returned to the church two years ago.
And it is in the telling that she reaches for the tissues that sit ready on the lectern.
Stowers, nee Elizabeth Skeen, has two sons from her first marriage. She has since divorced and remarried (her second husband Shannon Stowers was baptised into the church the same day they married).
Talking of the joys of living as a blended family - her husband has a daughter - Stowers says "none of this would have been possible if Jesus Christ hadn't suffered my sins and said 'come unto me'."
"The Saviour knew what I wanted for me. He knew my heart, even when it was hard."
She ends her delivery with a rallying cry to her audience. "What does the Saviour want for Christmas? He wants us."