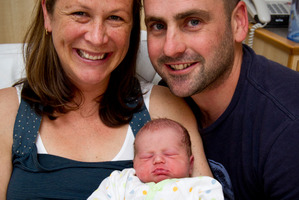 In what her parents hope is a good omen, Scarlett Anne Lowe was born at 12.12pm on December 12, 2012.
It was the last triple date sequence of the century, and Scarlett's birth at Auckland Hospital yesterday even managed to align the time down to the minute.
Scarlett's father, Nick Lowe, said it had come as a surprise.
"We didn't really realise it - but then I looked up at the clock at the hospital," he said.
Mr Lowe's wife, Sally, was set to be induced early in the day, so the couple knew it was a possibility.
"We joked about it in the morning but we didn't think it would actually happen."
About half an hour before the birth, Mr Lowe said he had noticed the time was getting close - but it was far from their minds when Scarlett was actually born.
Their midwife and the hospital's nurses soon picked up on the coincidence and joined in celebrating.
Mrs Lowe and Scarlett are now in Birthcare, in Parnell.
Mr Lowe said the birth had gone smoothly.
"It's hopefully a good sign."
Yesterday's triple date seems to have been considered auspicious by many others, with wedding venues reporting strong bookings for the day despite it being midweek. West Auckland venue Cassels was booked 18 months ago by a couple who cited the date as the reason.
Meanwhile, divine healers were expected at the Tamaki Yacht Club to mark the start of 2000 years of peace.
And dozens of nzherald.co.nz readers sent in photos of where they were in their daily routines at the exact second the twelves aligned.