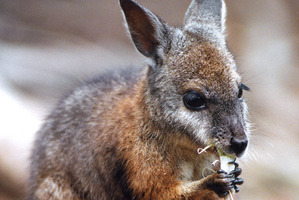 They may be fluffy and cute but Western Bay residents are being warned wallabies are not pets.
Bay of Plenty Regional Council Rotorua land management manager Greg Corbett said some people viewed Dama wallabies as pets instead of pests.
"We are aware of a number of recent incidents of wallabies being sighted outside the area where we know they already exist. Some have even been in residential areas which is concerning as this may mean they are escaped pets," Mr Corbett said.
A wallaby sighting in Bethlehem earlier this year was "almost undoubtedly someone's pet that had escaped", he said.
In November 2008 the Bay of Plenty Times reported on a wallaby found scurrying through the back garden of an Omanu property.
"They are naturally quite nervous and flighty. If they escape they are quite determined to survive in the wild. It could potentially lead to much bigger problems," Mr Corbett said.
"It is simply irresponsible to keep pest animals as pets because the damage that these animals cause to the environment is costly, both environmentally and financially."
The core infestation area was around the Rotorua Lakes although a small population of wallabies was living in Welcome Bay, he said.
Mr Corbett said wallabies destroyed native bush by feeding on seedlings which meant native birds and animals lost out on food and shelter.
"They are another one of these lovely introduced animals that's turned out to have quite an appetite for native bush.
"They can also cause problems for forestry and farming by feeding on pine and eucalyptus seedlings and competing with stock for pasture."
Wallabies were named as a containment pest in the Bay of Plenty Regional Pest Management Plan and had also been listed as unwanted organisms in the Biosecurity Act, which meant it was an offence to move or release them.
Mr Corbett said the main aim was to stop the spread of the pest throughout the Bay of Plenty.
Tauranga Department of Conservation ranger Brad Angus said wallabies were not common in the Western Bay although there was the occasional sighting .
"You can call either DoC or the Bay of Plenty Regional Council. We're very interested in any sightings that the public have."
Any wallabies seen and caught would be put down, he said.
If you see a Dama wallaby west of Rotorua, east of Kawerau and south of Rainbow Mountain phone 0508 WALLABY.
Go to www.boprc.govt.nz or call the Bay of Plenty Regional Council on 0800 884 880 and ask to speak to a biosecurity or land management officer for pest control advice.
For more articles from this region, go to Bay of Plenty Times