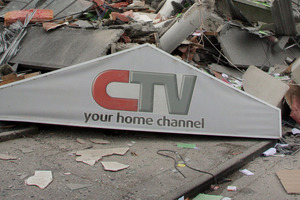 A woman who survived in the rubble of the collapsed CTV Building for at least 12 hours after the February 22 earthquake died of "massive crush injuries" and not smoke inhalation, a forensic pathologist has concluded.
The six-storey Christchurch office block 'pancaked' in last year's magnitude-6.3 quake, and some trapped survivors used cellphones to alert family and emergency services that they were still alive.
A fire broke out soon after it came down and claimed many of the 115 victims.
But forensic pathologist Dr Martin Sage believed that one victim, Dr Tamara Cvetanova had been crushed to death before she was overcome by fire.
"In this case there was no reliable evidence from direct examination that such smoke inhalation had occurred and all the other features were consistent with fire damage having occurred entirely and only after she had died from her massive crush injuries," he said.
Dr Sage was speaking at a coroner's inquest into the deaths of Dr Cvetanova of Serbia, Cheng Mai of China, Japan's Rika Hyuga, and Jessie Redouble, Emmabelle Anoba, Ezra Medalle, Reah Sumalpong and Mary Amantillo, all from the Philippines.
They were all were students at King's Education School for English Language on the concrete tower's third floor who were known to have survived the collapse but could not be pulled out alive.
Dr Sage conducted a post-mortem examination on Dr Cvetanova on March 3 last year as part of the Disaster Victim Identification (DVI) process.
She had "obviously fatal" crush injuries before she was exposed to "severe incineration".
He recalled the case because there had been discussion with colleagues over whether the effect of smoke occurred before or after her death.
Other CTV victims had shown evidence of inhaling significant levels of smoke, he said.
There were "enormous pressures" put on the DVI system operating out of Burnham Military Camp that the bodies were processed and released as quickly as possible, he said.
Under cross-examination by Nigel Hampton QC, acting for Alec Cvetanov (EDS Crrct) who spoke to his wife Tamara by cellphone up to six times while she was trapped, Dr Sage confirmed that he was instructed to not carry out a full autopsy.
Resources were strained by the quake disaster and they were conducting varying degrees of examination.
But Dr Cvetanova's examination "wasn't all that much less" than a full autopsy anyway, he said.
On Monday, Mr Cvetanov gave testimony and became upset while explaining why he wanted an inquiry into his wife's death.
The father-of-two wanted further answers from the coroner because he was unhappy with responses from police after asking for her cause of death.
"The police only ever told me that Tamara's body was smashed, broken and burnt, and that the earthquake caused her death. That is not true - the earthquake did not."
She survived for at least 12 hours after the quake, he said, and he wanted to know whether she died because of the fire and smoke which engulfed the building after its collapse, or she was crushed when rescuers tried to "de-layer" the rubble using heavy machinery.
Coroner Gordon Matenga said he now needed to determine whether Dr Cvetanova, and the four people from the Philippines who were also trapped in the same void between the third and fourth floors, died when their cavity collapsed and crushed them, or whether it was the effect of smoke inhalation.
The inquest is due to conclude tomorrow.
- APNZ