A new 'great walk', a giant heritage park and a ferry service taking you from downtown to 'slow town'. It's all there in a Coromandel dream.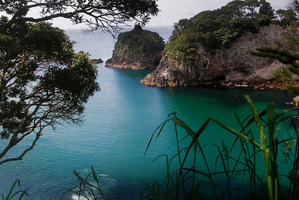 Fifty years ago, a teacher in Coromandel town predicted to her student that their charming settlement would one day be a suburb of Auckland.
John Walker, now chairman of the local community board, still doesn't think his teacher's forecast was wild.
There are fresh moves to bring more Aucklanders the 50km across the Hauraki Gulf to the lazy peninsula's crowning jewel, and if it became viable to commute, said Mr Walker, then who knows what could happen to the little township of 1700 people.
"It's always been talked about ... but when's the right time to spend large sums of money?"
The answer seems now.
Just as a long-discussed idea to build direct ferry access to Coromandel town is finally gaining traction, other bold visions for the peninsula are being touted by the right people.
There's a proposed "great walk" to showcase the stunning coastal beauty between Whitianga and Whangamata, a large-scale makeover to showcase Coromandel town's rich goldmining past, and a giant heritage park to showcase and preserve the peninsula's natural and historical wonders.
All of it is planned to further boost a region that is already one of the country's fastest growing holiday spots.
It is one of Auckland's main summer playgrounds, there were 2.5 million visitors last year, and in the busy holiday period the number of people there swells from 40,000 to more than 120,000.
The bulk of holiday-makers stream across the new Kopu Bridge near Thames, many bound for beach destinations on the sandy eastern coast.
For those travelling up the Firth of Thames, a narrow and meandering State Highway 25 can make for a slow crawl along the coast.
That's where an all-tide wharf at the foot of Coromandel town could relieve pressure on the roads and open up a "northern gateway" to the peninsula, more evenly spreading the tourist load.
Access directly to Coromandel is dogged by the tidal nature of the harbour.
360 Discovery runs ferry services to Hannaford's Jetty about 7km out of town, but has to operate a shuttle service to take passengers the rest of the way.
The council is looking at options to overcome the hurdle, and Coromandel MP Scott Simpson sees it purely as a "logistical issue".
"It's not beyond the wit or imagination of today's engineers and planners to come up with a workable solution," he said.
A characteristically quirky idea has been put forward by local identity Barry Brickell, whose artful innovation has made his Driving Creek Railway one of the region's most popular tourist destinations.
An "ultimate solution" sketched out on a piece of paper by the self-described "practical visionary" details a wharf extension far out into the harbour, with a rail carriage running along the length of it to take passengers back and forward.
"The public are nowadays attracted to trains, so getting off the ferry for even a short train ride for those who would not wish to walk would become another novelty," he said.
"The town would automatically prosper."
Mr Walker said the benefits of a ferry terminal a short stroll from the town's main street would be immeasurable.
Along with a bigger tourism stream, better access could present Coromandel as a lifestyle option for Auckland commuters and encourage more "absentee" residents to visit more often.
At 55 per cent, the district has the country's highest rate of homeowners who do not live there full time.
360 Discovery were just as excited at the prospect.
Annually ferrying about 14,000 passengers from Auckland and Waiheke Island to and from Coromandel, the company expected direct access to the town would draw more day trip passengers and longer stay visitors.
Mr Walker could only guess what would have become of his town if council members before him had chosen to invest in better wharf facilities when the matter was tabled 83 years ago.
"The present community board has always seen it as a priority and I think now seems the appropriate time," he said.
"There certainly seems to be a lot of interest in it from the business sector, and from people who have holiday baches or are retired, and don't want to travel on a dangerous highway two and a half hours to Auckland."
There were images of weekend market days in the main street, with Auckland day-trippers flocking over to fill cafes and to enjoy the town's relaxed ambience.
The appeal wasn't lost on Thames-Coromandel District Council chief executive David Hammond.
"From the Coromandel wharf, it's like you'd be stepping straight into slow-town - you're instantly getting the whole feel of the heritage and the environment as you walk into town with the birdsong," he said.
The Hauraki Gulf was this year ranked in traveller's bible Lonely Planet as the top thing to do in New Zealand.
Auckland Tourism Events and Economic Development's tourism manager Jason Hill said more people exploring it could only be positive.
He had no doubt a direct ferry link would be well patronised by Aucklanders.
A town makeover is also being eyed to draw more visitors, with a high-level business plan to be tabled at a community board meeting.
It was 160 years ago when New Zealand's first gold was discovered near the town and Coromandel Main Street chairman David Foreman saw a "huge opportunity" for a second 'goldrush'.
"Unlike many other places in New Zealand, Coromandel town still has a lot of heritage and character intact," he said.
"If we would like to develop Coromandel as a tourist destination, we need to create a place which people would like to visit, so we need to build on our uniqueness and develop our points of difference."
Residents have looked to Arrowtown for inspiration.
The South Island tourist staple has been reaping the rewards of successfully tapping into its own gold mining heritage, leading its population to triple in the space of only two decades.
One of the key players behind its revamp, Arrowtown Lakes District Museum director David Clarke, told a meeting of 100 people in Coromandel that as long as it protected its built heritage and slashed travel length, there was similar potential - especially in walking, cycling, aquaculture and Maori and goldfields history.
If they wanted to be successful, Mr Clarke told them, then their product was the Coromandel peninsula.
Big-thinking Thames-Coromandel Mayor Glenn Leach walked away from the meeting happy.
"The challenge now for the people in Coromandel town is to get on one page, understand what we're going for and what it means, and get in and drive it."
Mr Leach has only recently begun speaking publicly about another vision for the peninsula, a heritage park which would further protect 91 sites already registered.
His council plans to explore the concept - which would recognise special attributes of natural features such as mountains, beaches and forests - next year.
There were other examples of heritage parks in the country, such as Victoria Forest Park on the West Coast, but a Coromandel park could prove a national first in many ways.
"There would be nothing else like it in the country and it's one that would be similar to a National Park type of status," Mr Leach said.
"Within that, we would recognise we have communities and economies and they should still be able to live and breathe within that.
"So a living community within a heritage park means you are still able to operate and function, but you also do have a special relationship between them and their environment, which would raise the status of their environment."
He acknowledged the concept was a "big picture" idea and the council wanted to consult residents on it.
"I guess we are putting stakes in the ground about how we want to recognise the significance of our landscapes and environment, and protect them for the future."
It echoes recommendations made in a recent consultant's report prepared for the council, which found that "interpretation of the peninsula's rich history" and its widespread heritage sites and resources could support the community and provide "authentic cultural tourism experiences".
Hadley Dryden, general manager of tourism agency Destination Coromandel, saw heritage as "one of the values which underpins what we do and how we communicate with potential visitors".
"What we see as our key challenge is how to grow the visitor season outside of the summer period."
A direct ferry link was a case in point.
"It's all really about identifying pivotal infrastructure - and that will help the Coromandel realise its potential as a visitor destination," Mr Dryden said.
"We believe we should be New Zealand's number one rated, must-visit destination - and to realise that vision we have to put more steps in place."
Great coastal walk idea 'exciting'
Untouched white beaches, brilliant turquoise waters, sheltered rocky coves veiled by blossoming pohutukawa trees.
All of it, hidden away along the Coromandel's glittering east coast, could soon be unlocked by a new walkway to rival the beauty and scale of the Tongariro Alpine Crossing and the Milford Track.
Thames-Coromandel District Council is piecing together a possible route between Whitianga and Whangamata, to be marketed as New Zealand's 10th Great Walk.
It would likely link existing Department of Conservation tracks, with sections designed for cyclists and altogether taking between two and three days to complete.
Gary Towler, the council's Whangamata area manager, was working with DoC, landowners and other groups to map out a route, with a feasibility study due soon.
"What's down in the South Island - the Kepler Track, the Milford Track - they have all got these wonderful natural environments," he said.
"In the North Island, the Coromandel Peninsula is probably as close as you'll get to matching any of that. If we are unable to get a continual walk, then we should be able to package together a whole lot of really exciting walks."
The stretch of coast was already home to world-famous destinations Cathedral Cove, Hahei and Hot Water Beach, and there was potential at least for connecting walks between the attractions.
Mr Towler said initial feedback from residents on the proposal had been fantastic.
Cherry Ladd, of the group Coromandel Peninsula Coastal Walkways, welcomes the idea.
"It's exciting. It certainly has potential for tourism - and it has potential to really be a very different walk," she said.