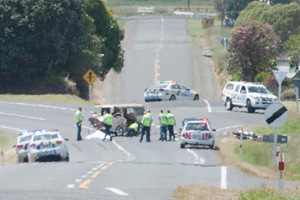 Police have released the names of two of the people who died yesterday in a motorbike crash in Taranaki, during a horror weekend that has seen six die and more than a dozen injured in crashes on North Island roads.
Four of the six who died were motorcyclists.
Kelly Richard Reardon, 40, of Waitara and Gordon Thomas McKay, 68, of Bell Block, New Plymouth died in a collision that involved four motorbikes and a van.
Five others were hospitalised in the crash during a charity motorcycle run at Normanby in South Taranaki, shortly after midday.
A 24-year-old was flown to Waikato Hospital in a serious condition.
The other four men, aged between 62 and 22 remained in Taranaki Base Hospital - one was in a serious but stable condition, two others were in a comfortable condition and a fourth person was described as stable.
Police said it was too early to say whether charges would be laid.
Just half an hour later, seven people were hospitalised following a two-car crash in Rodney.
A male driver has been cut from the wreckage and was flown to Auckland Hospital. The others in the cars, who were of varying ages, were transported to hospital in critical condition.
The collision happened on State Highway 1, at Te Hana, Rodney District about 12.35pm.
A man died after the car he was driving was involved in a three-car crash south of Whangarei, just after 4pm yesterday.
The incident happened north of the Prescott Rd and State Highway 1 roundabout, at Ruakaka.
Three people were injured, one critically and two with moderate injuries, police said.
A 21-year-old farmer was also killed when his motorbike collided with a car in the Bay of Plenty yesterday.
The head-on crash happened on State Highway 2 near Opotiki at 5am.
The motorcyclist, who lived and worked in the area, died at the scene. The two occupants of the car were not injured in the crash, said police.
Another motorcyclist was killed about 10.20pm yesterday when he failed to take bend on Golf Road in Taumaranui.
A police spokesman said the man, in his late 40s died after his high powered motorbike hit a building.
Speed was a factor in the crash, he said.
A person also died after their car crashed near Paeroa last night.
- APNZ