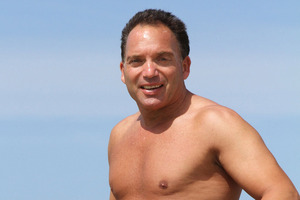 A man cleared of offensive behaviour after being seen jogging in the nude celebrated yesterday by going boogie boarding - naked.
"It's just another day at the office," he beamed.
Andrew Lyall Pointon, 47, was running in just a pair of shoes when a woman saw him at 8.30am in a forest near Tauranga in August last year.
She complained to police and Pointon was arrested three days later as he ran naked in forest near the Oropi Bike Park.
He was charged with offensive behaviour and found guilty in Tauranga District Court last December.
An appeal was thrown out in June, but a second appeal was upheld by Justice Paul Heath in the High Court at Tauranga on Friday.
Pointon told the Herald on Sunday he believed the decision was a major victory for freedom of expression.
"I hope my case gets the message across to judges and the police that not everyone in Tauranga is ultra conservative and others have rights too," he said.
"For me, it is a bit like taking a sledgehammer to a section of the Berlin Wall and walking through the gap to freedom."
Pointon was back letting it all hang out on his boogie board at Papamoa Beach yesterday. He also plans to join other nudists at the same spot today in an attempt to break the world record for mass skinny dipping - they hope more than 400 will attend.
The committed naturist said he would have taken the matter to the Supreme Court.
"I had to stand up over the stupidity of the police for charging me and the ludicrous claims of the woman who wanted the park I was jogging in to herself," he said. "She had only caught a fleeting glimpse of a naked man running through the forest."
Pointon's lawyer Michael Bott said Judge Heath's decision was a matter of common sense. "It's a perfectly sensible decision," Bott said. "What it points to is the growing tolerance in New Zealand of diverse lifestyles and freedom of expression," he said.
"The judge pointed out that Mr Pointon was going out of his way to be away from most people and was being sensitive to their needs . There was no element of exhibitionism."