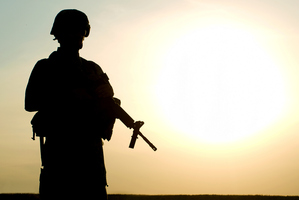 The gradual withdrawal of foreign troops from Afghanistan should lead to military contact between Britain and New Zealand increasing, says visiting British Minister for the Armed Forces Andrew Robathan.
All British forces are due to be withdrawn from Afghanistan by the end of 2014; New Zealand's last Provincial Reconstruction Team is due to leave Bamiyan province next April. The United States was intent on avoiding further land campaigns in the Asian region, Mr Robathan said yesterday, and "we certainly are not keen on fighting further wars like (Afghanistan)".
Being less engaged in land conflicts should bring opportunities for greater engagement with New Zealand, he said.
The exit strategy raises similar issues for the two nations, despite Britain's far bigger commitment. Both have adopted a similar line to the question of repatriating Afghan interpreters seeking asylum by insisting on a case-by-case approach.
Last month, New Zealand offered 23 interpreters (about 73 people in all) the opportunity to come to New Zealand or accept a three-year salary payment to help them relocate elsewhere.
Former interpreters forced into hiding after serving with the PRT team were dismayed but Prime Minister John Key said the former interpreters could apply to come here under the UN refugee quota.
Last month the UK Government was forced into a u-turn after refusing asylum to an interpreter seriously injured in a Taleban bomb attack when it could not verify his employment. Mr Robathan said Britain owed a duty of care to those who had helped "but I don't believe we will give a blanket undertaking to take everyone".