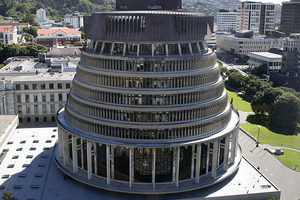 The roofs and windows on the top two floors of the Beehive are reportedly leaky, only six years after a $65 million refit.
Water has been leaking through expansion joints in the flat section of the roof, Fairfax Media reported, and a new layer of copper sheeting needs to be laid.
The two top floors of the iconic building house the Cabinet Room and the prime minister's offices.
Parliamentary Service precinct manager David Stevenson told the Dominion Post the cost of the work has not yet been finalised, but it is expected to take a year to complete.
The Beehive was built between 1969 and 1981, and had $65m worth of work done from 1998 to 2006.
- nzherald.co.nz