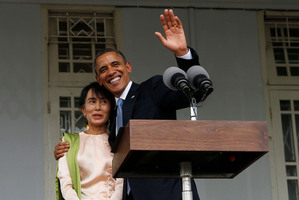 New Zealand has formally agreed to recognise Burma by the name Myanmar less than two years after it formally agreed to call it Burma.
The decision was made ahead of the visit later today by Prime Minister John Key to the emerging democracy.
Foreign Minister Murray McCully was behind both moves to take an unequivocal position on the names.
He wanted to call it Burma in 2010, as a form of protest against the military regime that ruled the country for several decades and wanted to be called Myanmar.
Asked for the reason behind the change, Mr McCully told the Herald: "Because we thought they had done enough, to be blunt.
"If you look at the things the international community has asked them to address, they have made breathtakingly good progress in the last 12 months - political prisoners released, ethnic conflicts for the most part put into at least a truce."
Other changes included the first election in 2010, and byelections this year that saw democracy leader Aung San Suu Kyi enter Parliament.
When Mr McCully hosted Burmese Foreign Minister Wunna Maung Lwin last month, his statement announcing the visit used both names.
By the time Mr Key announced his travel plans on November 8, he was going to Myanmar. Burma was not mentioned.
Mr McCully said there was a point where "further rehearsal of old grievances is counter-productive, where you need to get in behind and support progress".
"That's what we are trying to do as well as having our Prime Minister visit as an acknowledgment of the progress they have made."
The United Nations and some other countries accepted the name Myanmar, arguing that all countries had the right to call themselves what they wanted.
Others including the United States and Britain stuck with Burma saying it was preferred by the democracy movement.
The Herald uses Burma.