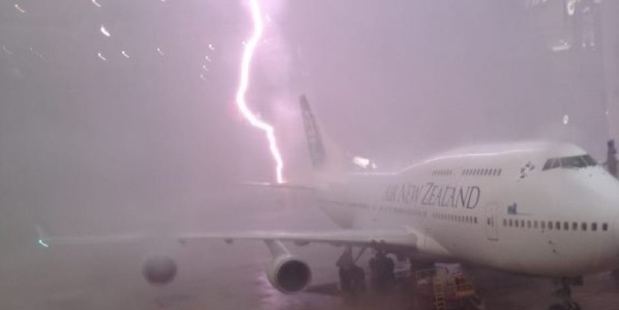 This spectacular snap appears to show an Air New Zealand jumbo jet at the pointy end of a lightning strike at Brisbane Airport yesterday.
The 747, on the tarmac before flying to Auckland, looks as though it was struck during a fierce late-morning storm. Within hours, the picture was beamed across the world on social media sites.
However, Air New Zealand last night said the photo was taken from a misleading angle, and insisted the lightning was nowhere near the aircraft.
"The picture is amazing but there was no strike to the plane, no damage and no one was hurt," an Air New Zealand spokeswoman said. "The aircraft took off for Auckland just a few minutes behind schedule at 12.51pm."
The spokeswoman was unable to say if any passengers were on board when the photograph was taken.