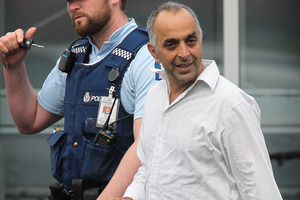 Loizos Michaels convinced people to "think big" and believe in his investment plans - before he fleeced them of more than $3 million, a court has heard.
On his fifth and final day giving evidence at Auckland District Court, Michaels was asked by Crown prosecutor Christine Gordon SC whether he lied to the court in the same way he lied to dozens of witnesses who have given evidence over the past seven weeks.
The 45-year-old is on trial after denying 31 deception charges laid by the Serious Fraud Office (SFO).
During his week in the witness box, Michaels claimed he lost money in an online gaming venture with former Christchurch Casino chief executive Stephen Lyttelton and National Party President Peter Goodfellow was involved in a bid to take over Sky City.
Michaels also pointed the finger at politicians Pita Sharples and John Tamihere, who he said had been paid money by Mr Lyttelton.
He said his ex-wife had drug and alcohol issues and his bank had been complicit in a money laundering operation.
The claims contradicts evidence from Crown witnesses.
Towards the end of her cross-examination today, Ms Gordon put a series of propositions to Michaels.
"You got people to think big and put up big schemes and believe you could back those schemes with big money."
Ms Gordon said Michaels used people as "pawns" and took their money.
"You took money off different people and spent it ... And I suggest you lied to the court, just as you lied to [the witnesses]."
Michaels denied each proposition: "I say you're totally wrong."
Ms Gordon also quizzed Michaels about his attempts to buy 12 luxury apartments at the Sacred Waters complex in Taupo from co-owner Janet Jackson.
Mrs Jackson has previously told the court she was persuaded by Michaels to buy the apartments from her co-owners - then sell them to Michaels.
She said Michaels told her his money was in a Belgian bank account and his backers needed some security. He convinced her to make several payments worth more than $353,000 to ensure the sales.
Micheals was asked about putting All Black great Jonah Lomu's name on the sale and purchase agreement.
"Jonah was just a delay tactic. He knew about it."
The money was transferred into the account of Michaels' tradesmen hire business Trades R Us but the sale never went ahead.
Today Ms Gordon said the SFO had shown Michaels spent $57,000 of the money from Mrs Jackson on rent for his Greek restaurant, Plato's on Auckland's Ponsonby Rd.
Other money was transferred to Michaels' estranged wife and some was withdrawn in cash.
The restaurant eventually failed and went into liquidation.
But Michaels denied ever offering to buy the Sacred Waters apartments and said the money Mrs Jackson transferred into the Trades R Us account was part of an elaborate attempt to launder cash and make it look like the money was for renovations of her rental properties.
He also said the SFO operated as an agent-provocateur during its investigation.
"I have absolute faith in the ability of the SFO to be corrupt."
Michaels said he repaid $300,000 to Mrs Jackson's husband, Ted. Mr Jackson has denied that ever happened.
When Michaels said his bank failed to record some of the details of Mrs Jackson's transactions he was asked by Judge Christopher Field if he was saying the bank "was a party" to a conspiracy.
"They must be, Your Honour."
- APNZ