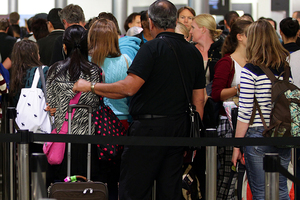 A law change affecting thousands of Kiwis living in Queensland would create a "second class", the state's Anti-Discrimination Commissioner says.
An amendment to Queensland's Ant-Discrimination Act will allow the state to discriminate against New Zealanders by blocking access to government aid.
The bill was introduced following an out-of-court settlement with disabled New Zealander Hannah Campbell, who has cerebral palsy and requires fulltime care.
Ms Campbell had attempted to sue the Queensland Government for denying her care.
Anti-Discrimination Commissioner Kevin Cocks told a parliamentary committee the law change could create a "permanent second class of people", the Courier Mail reported.
He said the amendments could mean New Zealand families with disabled children could end up having to place their children into state care.
New Zealanders in Queensland say the amendment would be racial discrimination based on nationality, and are threatening legal action.
"The amendment runs the risk of infuriating the New Zealand community to the point where we will launch sizeable class actions against the State," David Faulkner, a New Zealanders' rights advocate, told the Courier Mail.
- nzherald.co.nz