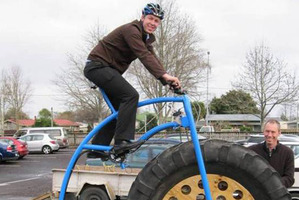 A super-sized bike which towers above traffic is being auctioned off in a bid to raise money for a charity supporting babies born with heart defects.
The 2.2m-high bike, designed by mechanical engineer Chris Staal, is being sold on online auction site Trade Me to raise money for kids charity @Heart. Mr Staal spent two months creating New Zealand's biggest bike, originally for a safety campaign.
The contraption, dubbed the Monster Trike, is made from aluminium, is 24-speed, has dual hydraulic disc brakes, rear steering and a full electronic tilt control system. The bike reaches a top speed of about 10km/h and the successful bidder will be given an hour of training.
The auction closes on November 29 and as of last night bids had passed $600. The money raised from the sale of the bike and the Lake Taupo Cycle Challenge to be held on November 24 will be used to provide support services for @Heart and enable children with heart problems to attend an adventure camp in January.