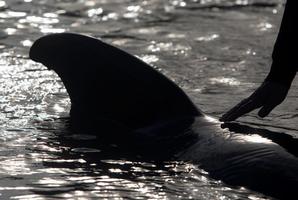 The Department of Conservation has confirmed that the decision has been made to euthanise the remaining 16 whales who became stranded at Farewell Spit.
Twenty-eight pilot whales were stranded at the high tide mark on Farewell Spit in Golden Bay this morning, with eleven dying in the first hour.
DOC programme manager Hans Stoffregen, said a DOC staff member trained in euthanasia would be carrying out the shootings.
Mr Stoffregen said his team were preparing for the euthanasia, which would be happening in the next half an hour.
"We have to secure the scene. We can't have any members of the public nearby."
DOC was disappointed at the outcome, he said.
Earlier today, he said something must be wrong with the whales.
"It's unusual that they would die so quickly."
He said pilot whales can usually survive days in the same conditions.
Mass whale strandings are not uncommon at Farewell Spit.
They swim into the relatively shallow water during high tide, but the tide recedes very quickly and they become stuck on the sand.
In January, more than 80 whales died after a mass standing of 99 pilot whales at Farewell Spit.
Pilot whales can grow to five metres in length.
- nzherald.co.nz