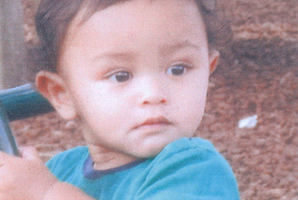 Jury members will resume deliberations at 10am tomorrow in the Joel Loffley murder trial at the High Court in Auckland.
After three hours of deliberations this afternoon, jury members were sent home for the night about 5pm.
Earlier in the day they had been directed to put aside personal feelings when deciding whether Loffley murdered toddler JJ.
Justice Patrick Keane summed up the three-week murder trial by telling the jury to consider only the evidence when reaching a verdict.
Loffley is charged with killing 2-year-old James Joseph Ruhe Lawrence, known as JJ, who died on 14 November last year "suddenly, unexpectedly and shockingly", from injuries to his liver and pancreas, Justice Keane said.
The jury must decide if Loffley deliberately killed JJ with fatal force.
The Crown alleges Loffley murdered the toddler by delivering a violent act - "a punch, a kick, a stomp, or something of that nature," said Judge Keane in his summing up.
This happened while JJ's mother Josephine Lawrence was away from the house and the boy was in Loffley's sole care, according to the Crown.
Loffley has maintained his innocence.
He said JJ accidentally fell off the bed while in his care on November 14, but these were only minor injuries.
The defence said while Loffley was away from the house with his brother, someone entered JJ's bedroom and fatally injured the baby - most likely his mother.
The defence also pointed to Ms Lawrence's failure to show signs of grief after JJ's death.
Justice Keane directed the jury to not take any meaning from Loffley's decision to not give evidence in his defence.
"He's not bound to give evidence. That is a right that anyone accused of a crime has."
- APNZ