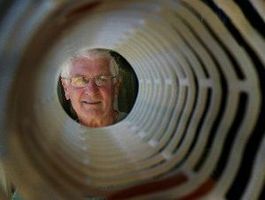 Six years after he became the first in the world to take part in a revolutionary cardiovascular treatment trial, Tauranga man John Lamb says he is glad the dissolvable stent is now commercially available.
It was 2006 when Mr Lamb found himself struggling to walk down his long Pyes Pa driveway to retrieve mail.
"I walked out to the gate to get the mail and the paper which I used to do with no problem," the now 71-year-old said.
"Then I got a bit puffed coming up the hill. It felt like a tourniquet around my chest and I had pains in my arms."
A GP visit confirmed angina.
Mr Lamb was sent to Auckland where he was asked if he would take part in a trial for a a new, untested, stent treatment that would dissolve after a few months.
After talking it over with family, Mr Lamb signed up.
The stent used in the operation was created in the US and frozen before being shipped to New Zealand.
Footage of the surgery was sent live to the research facility in America where the stent was made and history was made.
Minuscule ball bearings built into the stent remain in Mr Lamb's aortic valve after the rest of the stent dissolved, to indicate where the Absorb device had once been.
Within two days, Mr Lamb was back retrieving his mail like nothing had happened.
Aside from six months of taking post-operative medication, Mr Lamb said it was if his angina had not existed.
Nearly 2000 patients in more than 30 countries have since received the stent.
The treatment is publicly funded in New Zealand.
For more articles from this region, go to Bay of Plenty Times