Long-awaited findings point to failures at every level, says lawyer for victims' relatives Kurt Bayer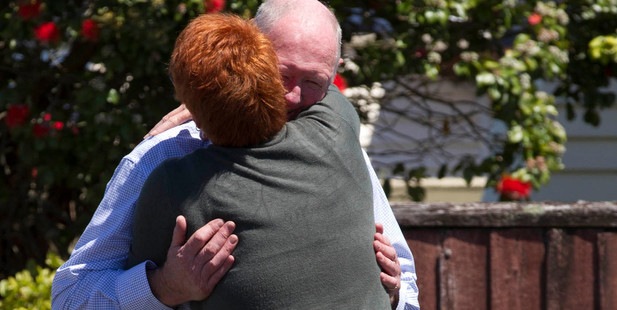 They choked back tears as the Attorney-General told them what they already knew: that their loved ones should never have died in the Pike River mine tragedy.
Almost two years after the series of explosions tore through the West Coast mine, and after enduring weeks of intense Royal Commission of Inquiry hearings into the disaster, the bereaved families were yesterday told finally that the deaths of 29 miners were entirely preventable.
Mine bosses ignored stark warnings over dangerous methane gas levels, and the Government's health and safety checks were "Third World".
When Cabinet ministers Christopher Finlayson and Gerry Brownlee flew into Greymouth yesterday armed with thick copies of the much-anticipated royal commission report, they brought with them some finality to the grieving process.
"It's a moving on for me," said tireless campaigner and spokesman for most of the 29 families, local publican Bernie Monk.
His son Michael is still buried in the collapsed mine shaft alongside his mates.
While it's likely the killer blast was caused by high methane levels, the royal commission report concludes, it does not categorically pin down the cause.
And they will never know, families accept, unless they go back into the mine and recover the bodies.
Mr Monk said that Mr Finlayson - who has to consider the 16 recommendations in the report for the Government - pledged a commitment to the families that he would get back to them 14 days from yesterday to "help us do the reclamation of the drift".
"I was really rapt with that," he said.
"There are answers down that drift. They [the Government] know how many blunders have been made here and they want to make amends."
Around 40 family members, either in person or tuning in via phone conference, sat around a table for about 70 minutes yesterday discussing the damning report with ministers and lawyers.
Mr Finlayson "spoke very well", according to Rachelle Weaver, whose partner Josh Ufer died in the tragedy, leaving his unborn daughter fatherless.
At the end of the session, there were few questions left to ask.
"These families have gone through the commission - some went every day - and this was summarised in a very strong way," Mr Monk explained outside the private meeting.
Mr Monk's daughter Olivia, Michael's sister, wanted the report to go further and find out what caused the explosion, and who was to blame.
"They won't know until they go down the mine," she said.
Lawyer for the families Nicholas Davidson, QC, said the report gave an "unrelenting picture of failure at virtually every level".
- APNZ