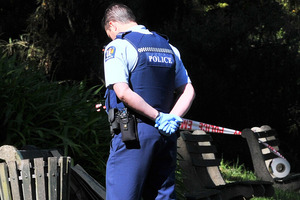 Police have released the name of a man whose body was found next to gas canisters in Dunedin's Botanic Gardens yesterday, but are yet to establish whether he is the latest victim of "huffing".
He was 27-year-old Joshua Robert Tunnicliffe, of no fixed abode.
Sergeant Dave Scott said yesterday his body was found near canisters of "a gas that is commonly misused for inhaling".
"We believe he's passed away during the hours of darkness and been found by a member of the public in the morning."
A post mortem examination today is expected to establish how Mr Tunnicliffe died.
Police were not seeking anyone in relation to the death.
In September, Chief Coroner Judge Neil MacLean released a report on "huffing", the inhalation of gas to get high, which found 63 people had died in butane inhalation-related incidents since 2000.
He criticised the Government for not doing enough to stop a "lost generation" of youths from killing themselves by sniffing butane-based solvents.
"This is an insidious and extremely dangerous activity that is predominantly killing young males," he said.
Judge MacLean launched an an urgent review into the practice, after two Mosgiel teenagers were critically injured in July when an LPG cylinder, they were believed to have been huffing from, exploded.