Residents wake to see crashed car.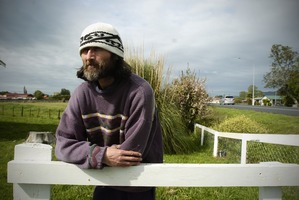 A teenage driver of a stolen vehicle has been injured after swerving to avoid road spikes, police say.
Residents living alongside State Highway 1 at Taupiri were startled out of their beds yesterday by the 6.25am crash.
Pat Nugent, who lives next to the accident site, was half asleep when he heard "screeching tyres and then a big bang".
He discovered a car lying upside-down in a paddock metres from his home and watched police officers running towards it.
"I heard the copper asking them 'are you all right?' but only the passenger answered. They'd travelled about 30 metres so they must've rolled a few times."
The passenger did not appear to be injured and police helped him out of the car. The unconscious driver had to be carried out through the back window, Nugent said.
"I think his leg was broken because it was bent funny and he was groaning." Neighbour Maggie Cannons woke to "all this screeching and carry-on.
It was a hell of a racket for Taupiri." Waikato Hospital spokeswoman Mary Anne Gill said last night the 18-year-old driver was in a stable condition, but declined to say whether he had suffered moderate or serious injuries.
A police spokesman said police chased the vehicle before abandoning the pursuit because of high speeds.
However, the vehicle later slowed and appeared to be having engine problems before unsuccessfully attempting to avoid the spikes.
Police were investigating and it was too early to talk about charges, he said.