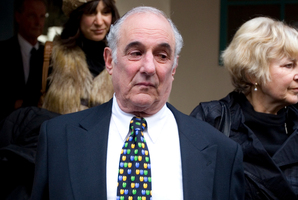 The wife of jailed former Nathans Finance boss Roger Moses says out-of-pocket investors would support the couple's belated birthday bash with family and friends.
The Herald on Sunday revealed last week Moses and his wife Barbara had booked out upmarket Sails Restaurant.
Moses was in jail on his actual 70th birthday, serving eight months of a jail sentence of two years and two months after he was found guilty of breaching the Securities Act.
News of the party at the 150-capacity restaurant upset some of Nathans 7000 former investors, still counting the cost five years after the company collapsed and took $174 million of investors' money with it. Green Bay pensioner John Addis, who lost $29,000, said he was disgusted.
But Barbara Moses told the Herald on Sunday she thought investors would think she and her husband should be left to "get on with it".
"We know investors and not all of them want Roger to go and commit hara-kiri." Her husband had suffered enough.
"Do you not think that a man, who's had an impeccable record, that going to jail is not a punishment? Roger paid nearly half a million dollars reparation towards (investors)...we've said all along that we're heartbroken for them. But is a man not entitled to have a private party?"
The couple cancelled the party, concerned that guests might be subject to the glare of the media. "There were a lot of very good people coming to that function ... we invited the many dozens of people who went to visit Roger, who looked after me, who cooked food for me."