Neighbouring workers shrug off hero tag after coming to the aid of BNZ staff in Whangamata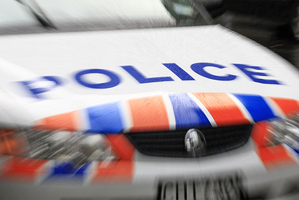 Two men who barricaded an axe-wielding man inside a Whangamata bank until police arrived are wary of being tagged as heroes.
GJ Gardner staff member Jay Reece, one of the men who trapped the man inside the BNZ on Port Rd, said he had no doubt the bank's staff members would have come to their aid in the same situation.
"We know the ladies in there and they all have families. We're essentially two doors up from the bank," he said.
A man walked into the bank with an axe about 10.10am on Monday and smashed several windows and the front counter.
Mr Reece was heading back to his office when he saw what was going on.
"I didn't know if he was armed. When I walked up to the door someone said he had an axe and someone said he had a sledgehammer."
He decided it was best not to go into the bank but was determined to do something. Mr Reece called out from the door to see if any of the bank's staff would respond.
There was no answer until the bank manager walked quickly past the room the offender was in and out the front door, he said.
Once all the staff were safely out of the building, he and Brandon Utting, of Coastal Engineering Services, looked for a way to trap the man inside.
"One of my clients, who is a farmer, walked past and I said, 'Do you have a chain or something?'. He said he'd have something and went to get it."
Armed police entered the bank and arrested the man, who walked calmly out of the building.
Mr Utting said he did not consider his own safety at the time. "I didn't really think about that. I just made sure everyone else was all right," he said.
A 53-year-old man has appeared in the Hamilton District Court on one charge of attempted aggravated robbery and one of wilful damage.
- APN