Exclusive: Man accused of $1m delivery through Chile is extradited from Britain.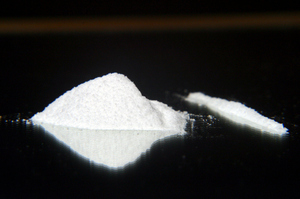 An accused cocaine supplier in England has been extradited to Auckland to face charges of plotting the delivery of a $1 million drug shipment from South America to New Zealand.
Detectives were able to trace 3kg of the smuggled narcotics back to Britain, where 28-year-old Daniel McGannan was arrested in June.
He has been held in custody until British Secretary of State Theresa May agreed he should stand trial on charges of importing the Class A drug.
Two detectives flew to London to get McGannan, and he arrived in their custody at Auckland International Airport yesterday.
McGannan is expected to appear in the Auckland District Court today.
His lawyer Graeme Newell said the presumption of innocence was paramount, and "we should all keep an open mind".
"Extradition does not equate to guilt," said Mr Newell. "The question is, 'Who sent the cocaine to New Zealand?"'
Five people were arrested in Auckland, Wellington and Christchurch during Operation Gringo last December and four entered early guilty pleas.
But the extradition of McGannan is one of the rare occasions where the alleged overseas-based drug supplier has been caught.
Only seven foreign nationals have been extradited to New Zealand to face criminal charges since 2007.
They include including another alleged drug dealer, Rokas Karpavicius, a few weeks ago.
Detectives from the Organised and Financial Crime Agency allege McGannan liaised with a Mexican drug runner to smuggle cocaine to his contacts in New Zealand.
The 3kg seized was hidden in a suitcase belonging to David Negrete Nevarez, who landed at Auckland Airport on a Lan Chile flight from Santiago in December.
The 43-year-old pleaded guilty to importing and possession for supply of the Class A drug and was sentenced to seven years in prison.
Covert surveillance led to four other arrests around the country, two of them of contractors helping rebuild Christchurch.
A "controlled delivery" of the cocaine was followed to Auckland woman Samantha Margaret Gemmell, 27, who then passed the parcel to Adrian Marquiss Kemp, 31, in a Mission Bay carpark.
Gemmell and Kemp each admitted a charge of possession of cocaine for supply and were jailed for two years and six months and two years, 10 months respectively.
Under police surveillance, Kemp transferred the drug package to Brendan John Clarke in Wellington.
Clarke agreed to find buyers for the 80 per cent pure cocaine after the original purchaser pulled out.
Police swooped when the Wellington man opened the suitcase to inspect the package.
The 37-year-old pleaded guilty to possession for supply and will spend four years and eight months in prison.
Clarke was a self-employed builder with 16 staff and worked as an Earthquake Commission contractor inspecting damaged Christchurch homes.
Customs offivers have seized nearly 11kg of cocaine this year, a record amount, as cartels in Mexico and South America try to establish a local foothold.
At $325 a gram, cocaine is expensive in New Zealand. But law enforcement agencies believe Auckland is also a transit point to the Australia market and beyond.
Operation Gringo
Extradited: Daniel McGannan from the United Kingdom
Sentenced: David Negrete Nevarez, 7 years, from Mexico; Samantha Margaret Gemmell, 2 years and 6 months, from Auckland; Adrian Marquiss Kemp, 2 years and 10 months, from Auckland; Brendan John Clarke, 4 years and 8 months, from Wellington.
Pleaded not guilty: Cameron John Lockie, from Wanaka. Trial to be held in Christchurch next year.