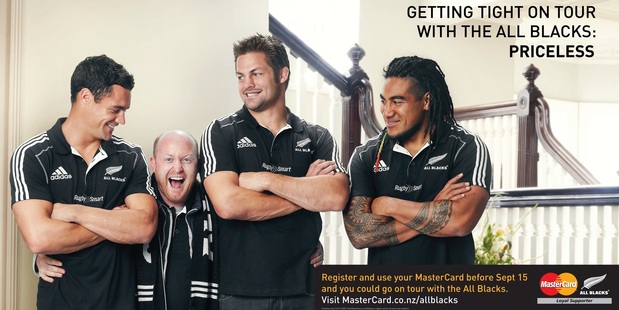 New Zealand's most famous rugby fan says life has never been the same since starring in that award-winning Mastercard commercial with the All Blacks.
The promo, featuring Dan Carter, Ma'a Nonu and Richie McCaw, this week picked up Fair Go's Best Ad award for 2012. It was also nominated for worst advertisement.
Auckland-based jobbing actor Byron Coll, who plays superfan Tim, says he's often been recognised since the ads started screening in July. One man on a bicycle crashed into a stop sign when he spotted him.
"The guy was trying to give me the 'Nonu, Nonu, Nonu, boom' knuckle punch as he was going past," Coll said. "He lost his balance and ploughed headfirst into the sign."
Coll insisted the only thing he has in common with the polarising Tim was his smile.
"Some people love Tim because he's light, funny and enthusiastic.
"What other folk dislike is he is that annoying rugby fan you come across at the pub or at a game, who is just that wee bit too enthusiastic and ends up spilling beer on your lap."
Coll said some of the out-takes were even funnier than the finished article. "On one take I was told to do something different to catch the guys off guard," he explained.
"I purposely tripped on a light stand and fell flat on my face, before getting up and carrying on acting as if nothing had happened. We had to cut the scene because it sent Richie on a hysterical laughing fit."
Oliver Maisey, executive creative director at Sydney-based ad agency McCann, said Coll was a natural for the role.
"The way he pulled it off was top-drawer stuff."
Coll added Carter texted him several times to say how much he loved doing the ad. Nonu also gave him a "back-breaking bear hug" when the shoot finished.
Coll's next role will be as a one-armed thief in the upcoming homegrown feature film Shopping.