Fiancee hopes she is due a bit of luck for tossing coins into Trevi Fountain.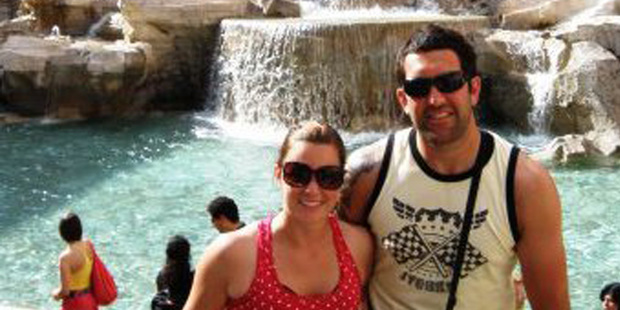 The fiancee of rugby player Hoani MacDonald, who collapsed during a match at the weekend, is hoping for a dose of Roman luck.
Michelle Notman has posted a photo on Facebook of the couple at the Trevi Fountain in Rome, where people toss in coins for good luck.
"A bit of Trevi luck never goes astray!!! Bring it!!" she wrote. The couple have two sons, Iwi and Kade.
When MacDonald was taken from the field on a stretcher after his collapse, he was pictured wearing bandages around his wrists where the names of his two young sons had been written in felt pen.
It is understood MacDonald hails from a huge Southland rugby-playing family with links to former All Black Leon MacDonald.
Ms Young said the family did not want to speak to reporters.
It is not known when MacDonald will be discharged from hospital.
The NZ Rugby Union has been keeping in contact with his fiancee and extended family.
MacDonald was last night still in a stable condition in the coronary care unit at Middlemore Hospital, Counties Manukau DHB spokeswoman Lauren Young said.
MacDonald, 34, collapsed on the field during a game in Pukekohe, south of Auckland.
Ambulance officers had to treat him with a defibrillator on Saturday after his heart stopped beating.
The Southland player collapsed shortly before halftime in his team's ITM Cup semifinal against Counties Manukau.
Southland head coach David Henderson has said MacDonald was previously fit and healthy.
Many people wrote messages of support in response to Ms Notman's post, including Juliet Gray, who said she had tossed many coins into the fountain, "so sending that luck ur [your] way".
Jac Peters said: "Hang tight - things are going to get better."