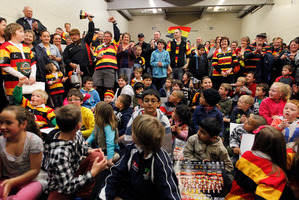 The Waikato Rugby Union is paying off the balance of its $500,000 loan ahead of schedule and the council has agreed to wipe early repayment penalties of more than $5000.
Hamilton City Council's finance and monitoring committee yesterday accepted the union's offer to repay the $341,025 14 months early as it works to become debt free within the next 18 months.
On the recommendation of staff, the council opted not to charge an early exit fee of $500 for the loan discharge costs and three months interest payments totalling $5251. The council will cover the $500 administration fee.
The council's general manager of events and economic development, Sean Murray, said the council would be removing itself from any risk associated with the loan by accepting the union's offer.
Last year, the council agreed to transfer the hundreds of thousands of dollars it was owed in overdue rent on the Waikato Stadium into a three-year loan of $500,000.
The union paid 7 per cent interest on the loan.
Waikato Rugby union chief executive Graham Bowen said the loan had been critical to the union's survival.
It had repaid it early by reducing operating costs by $400,000 a year and raising $180,000 through auction evenings.