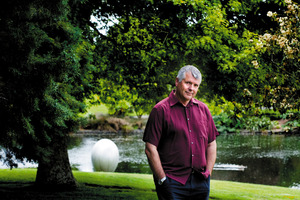 Deep in New Zealand's countryside, the beautiful Paloma Gardens are 20km fromWanganui and even further from the Ministry of Primary Industries' headquarters in Wellington.
Visitors to Clive and Nicki Higgie's gardens pay $10.Most visitors. When ministry biosecurity officers and police turned up in February, wielding a search warrant for a exotic kauri trees and the Higgies' computers, they just drove straight in.
They weren't interested in the fact that Paloma has been named one of the country's "Gardens of National Significance". All they were concerned about was Clive Higgie's alleged role in the propagation of a Pacific kauri classified as agathis silbae - a kauri the MPI considers to be a new organism under the Hazardous Substances and New Organisms (Hasno) Act of 1996.
Higgie is one of this country's experts on the various species of agathis, or kauri. So, too, are New Zealand Botanical Research Institute owner Graeme Platt and Auckland Botanic Gardens curator Jack Hobbs - world-renowned experts who suffered dawn raids last week.
Platt claims the Wanganui raid was the start of an eight-month investigation that has spun out of control. "They found agathis silbae, but they were looking for smuggled plants," he says. "They raided his place and this is a backlash from it."
The raid on Paloma Gardens passed under the radar. The MPI did not disclose the raid publicly and if they found anything illegal, they're not saying. No charges have been laid under the Biosecurity Act or the Hasno Act.
But when the Herald on Sunday exclusively revealed last week's simultaneous
7am raids on the Auckland Botanic Gardens, as well as the homes of Hobbs and Platt, ... well, that's when the public pricked up their ears. In the wake of the dawn raids on Kim Dotcom, the public is sensitised to anything that looks like heavy-handed policing.
In the newspaper's mailbag and on nzherald.co.nz, a few correspondents have hailed MPI for protecting native kauri from foreign imposters like the Vanuatu kauri. After all, diseases such as kauri dieback and pests like the Fiji kauri moth are legitimate concerns. But the majority decried the raids as jackbooted farce. So which is it?
Primary Industries Minister David Carter, the MPI and Auckland Council were initially reluctant to say much. But over the course of the week, the governmental public relations officials have relented in the face of scientific outrage, allowing the Herald on Sunday to reveal today the full extent of the investigation - an investigation that may yet culminate in court action.
The Department of Conservation sign in front of the tree named Tane Mahuta, in Northland's Waipoua forest, is worded in reverential terms: "You are in the presence of one of the most ancient of trees," it says. "This is the largest living Kauri tree in New Zealand ... It may be that Tane Mahuta sprang from seed around 2000 years ago, during the lifetime of Christ."
It may have taken such trees millennia to grow - but it took little time at all for New Zealand's first European immigrants to lop down thousands of the trees in order to mill timber for ships and buildings.
Sir George Grey, New Zealand's third governor, showed a similar lack of foresight. An amateur zoologist and botanist, he has been blamed for introducing the possum, which
has devastated NewZealand's native kauri, and the agathis macraphylla, a Pacific kauri that partially displaced the native kauri in some parts of greater Auckland.
Auckland nursery owner Malcolm Woolmore says the governor collected araucariaceae species, including the Norfolk pine and various members of the kauri genus. As the story goes, the araucariaceae around Matakana are a legacy of Grey bestowing the trees on various close female friends. "He was in the habit of giving them to people he was very friendly with," says Woolmore.
From here, the story gets murky. The MPI believes that in recent years, another species called agathis silbae has arrived in New Zealand.
It may have arrived as recently as 2005. There is no reason to believe that agathis silbae, or Vanuatu kauri, poses any specific threat beyond that of its cousin the Pacific agathis
macraphylla-but if it is here, it's an illegal migrant.
Because agathis macraphylla has been here so long, it's one of the 11 varieties of kauri listed on the MPI Plants Biosecurity Index of approved NZ organisms; agathis silbae is not.
Botanists like Platt and Hobbs insist that, in truth, macraphylla and silbae are the same tree - that the classification of agathis silbae as a unique plant is simply a 1987 cataloguing error by American botanist John Silba, who gave the "new species" his name.
Platt says: "Everybody likes to think they are the next Charles Darwin. They've got to piss on a pole to mark their territory." Although, to be fair, in casual conversation Platt describes some of the trees he has helped distribute around New Zealand as "agathis silbae".
For more than 20 years, Platt has been working with Bay of Plenty orchard owners Graham and Mavis Dyer to build the largest collection of Pacific kauri in the world-including, the Dyers say, agathis silbae from Vanuatu.
"Agathis silbae is found only in the mountains, and we're talking serious mountains with high rainfall and cloud peaks," Graham Dyer told the Bay of Plenty Times three years ago. "I'm too old to go in where there are no tracks and you only make 2km in a day."

The couple donated some of the trees to the people of Tauranga, and so a tree they call agathis silbae is said to be one of the 14 species of kauri now growing in Sydenham Botanic Park.
If agathis silbae is a new and alien threat to New Zealand's native kauri, then it's not the only one - and it's certainly not the most dangerous. For all the past week's talk around Operation Silbae, the real biosecurity challenge is containing phytophthora taxon agathis (PTA) - better known as Kauri dieback-and for the past 40 years, it has been devastating native kauri.
According to Department of Conservation biodiversity ranger Steve Benham, the disease was discovered on Great Barrier Island around 1972. It spread to the mainland and is now
killing trees in the Waitakere Ranges and parts of Northland, including the Waipoua Forest. It is believed to be spread on the feet of people and animals- or bymoving smaller kauri between nurseries.
If the botanists raided by MPI this year were moving Vanuatu kauri from one forest or region to another, and spreading PTA in the process, then that would explain the MPI's concern. But there is no scientific evidence yet that Vanuatu kauri even carries PTA.
So would Platt, Hobbs and Higgie recklessly smuggle Vanuatu kauri into the country, then distribute it fromone nursery to another? It seems to beggar belief.
And it seems inconceivable that men who have made their life work out of protecting trees would recklessly spread plants that might carry the virulent fungus PTA in their roots.
Indeed, Platt is so terrified of spreading viruses he won't even hook up his computer to the Internet. Instead, he gets his wife Rosemary to send them from her computer on his
behalf.
Yet the raids, and the seizure of the men's computers, indicates the MPI is looking at something more than three separate cases of illicit plants. What little information has emerged suggests MPI is looking for written communications that might provide evidence of a seed-smuggling conspiracy.
There is no question the three men who are the subject of the investigation were all close, at one time.
Higgie is a former friend of Platt's. The two men met when the latter walked into Platt's nursery 30 years ago - but Platt claims they fell out a decade ago in a spat over the authorship rights for a book and a dispute about ownership of quarantined araucariaceae plant material that Higgie had imported from New Caledonia.
Platt and Hobbs met in the 1970s when the Auckland Botanic Gardens were being established and Platt supplied many of the native plants. They remain close. Last year, Hobbs presented Platt with a Royal New Zealand Institute of Horticulture gold medal for plant raising. In his citation, Hobbs paid tribute to his vision: "You say the most outrageous things and 10 years later people see them as normal".
Certainly, Platt calls a spade a spade.The 71-year-old grandfather ended his formal education after high school, but he knows his plants and he's not afraid to say so.
"I started growing plants as a 4-year-old. I can walk down any street in New Zealand and see my plants growing in people's gardens."
Travel is a big part of a plant breeder's life - and Platt started young. By age 21 he had visited 21 countries. Since 2005 he has been to New Caledonia three times, Australia twice and China, Fiji and Vanuatu one time each. But he insists he only brought kauri plant material or seeds back from Vanuatu in April 2005, and Fiji in April 2008. All were cleaned, placed in labelled plastic bags and declared at the border. "I've never smuggled anything because it's a waste of time trying."
After closing his native plant nursery, Platt set up the Botanical Research Institute. Among his projects he is working to harvest seaweed to feed cattle, and to generate electricity by feeding kariba water weed into methane digesters.
Kariba weed is banned in New Zealand, but Platt says he found it the wild in 1974 and has grown it in sheep troughs ever since. Suffice to say, the biosecurity inspectors were not happy when they found it last week.
Platt is unrepentant: "I see plants as our future," he says. "They can produce our food, fuel, fibre and chemicals forever."
Hobbs, curator of the Botanic Gardens since 1988, is also highly respected in the plant world. A former guest presenter of TV shows including Maggie's Garden Show, Hobbs has run a successful plant breeding programme at the gardens for over 20 years.
Respected plant breeder Dr Keith Hammett has been left seething over the raids. "I'm outraged they would target Jack and even more outraged they would target the gardens."
Platt is unflinching in defence of his friend. "If anyone's questioning Jack Hobbs' integrity, they're a bloody clown," he says. "Jack's a living treasure."
At 7am last Thursday, the sun had just risen as three police cars and 14 biosecurity officials pulled up at Platt's Albany home and nursery, Hobbs' Pukekohe residence and Waiuku holiday home, and the Auckland Botanic Gardens.
MPI Deputy Director General Andrew Coleman says each of the four teams included a plant epidemiologist. They took samples from 37 araucaria at the Gardens, and another 26 at Hobbs' and Platt's homes, many believed to be agathis macraphylla or
silbae.
Coleman accepts the growing epidemic of kauri dieback was not a driving factor in the raids, but adds: "Why would we not take very seriously anything that might be suspicious around kauri, at this time?"
Platt and Hobbs' friends say the men's computers were also seized. Platt admits to exchanging frequent correspondence with Hobbs this year: "I did some work on the children's garden.
"But I doubt if Jack ever sent one email to me from his home. Very little plant knowledge goes back and forth in that way. I talk to him when I'm at the gardens. I'mdyslexic, so email isn't a happy medium."
Auckland Council spokesman Glyn Walters echoes Platt's claim that the investigations are all down to an esoteric dispute between botanists over agathis classifications. There is "considerable confusion" over the correct identity and naming of many Pacific island agathis species, he explains.
The MPI is investigating the importation of plant material into New Zealand "some years ago", and Walters admits some of that material is now in the Botanic Gardens.
"These plants have always been received in good faith and the understanding they have always been sourced legally and ethically."
A devastated Hobbs would say little this week, explaining that he has been advised by council lawyers to not talk to the media: "I'm just in a really frustrating situation where I've just, as I always do in life, got to be ethical and do what I do."
Sitting in his home near Florida's Atlantic coast, John Silba is confused. The former New Yorker says he can't understand why anyone would think agathis macrophylla and his namesake, agathis silbae, are the same.
"The ecology, the shape of the tree, the branching patterns are all different," he says.
Silba is studying towards a doctorate and taught in high schools and at a state university in New York before retiring to Florida.
The expedition to Vanuatu's Esperitu Santo Island occurred a long time ago, he says, he thinks in the late 1980s. He wasn't even on the expedition but a professor with whom he had worked, David de Laubenfels, told him the tree was unique - and Silba accepts that.
Until we called Silba, he knew nothing of the MPI raids. He is surprised and confused - which could be a problem for the MPI if it wants to convince a judge that he knows more than Platt and Hobbs.
Proving these plants are the banned agathis silbae maybe a big ask for the MPI prosecutors. If that argument fails, the MPI will have to prove instead that they are legitimate agathis macraphylla smuggled into the country illegally.
But the biggest challenge will be to prove the end justifies the means - that protecting New Zealand's ecosystem from a well-established tree that may be harmless justifies dawn raids on our most distinguished botanists.
The MPI says it takes foreign incursions of any new organism very seriously. The question is whether the public and the scientific community will take theMPI seriously.
As for Platt, he isn't planning to retire to Florida. As of this week, he jokes, he has new retirement plans.
For the past seven years, Platt has volunteered at Paremoremo Prison. Now, because of the raids, he hasn't been in for two weeks, and Platt says the inmates are awaiting his return.
"They've said they are saving some space for me in there to enjoy their company on a longer-term basis."