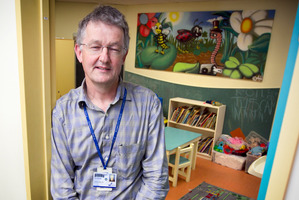 Starship hospital child protection team leader Dr Patrick Kelly says he feels "blindsided" by major changes proposed in the white paper on vulnerable children.
He says proposals to use a "predictive risk model" to help select 20,000 to 30,000 vulnerable children for a new shared national database risk upsetting years of work towards more informal inter-agency collaboration in child abuse cases.
"I'm all for better collaboration - that's what I've been trying to work for for 20 years - but I guess I thought that could be achieved by evolution rather than revolution," he told the Weekend Herald.
Dr Kelly was part of an eight-member expert forum in 2009 which sketched the first outline of a plan to tackle the high child abuse rate.
But he said he was not kept informed of the white paper's development and felt both the new predictive risk model and a proposed new "Child Protect" call centre, outside Child, Youth and Family (CYF), came "out of left field".
The predictive model was developed by Auckland University economists based on data on families held by CYF and Work and Income, and the white paper itself said no other country had used such a model to predict child abuse.
"Essentially what this is is an experiment," Dr Kelly said. "They have analysed a set of data, they have come up with a set of risks, and they are now proposing to implement an intervention. They have no idea whether that intervention will work or not.
"My experience is that anything they say is going to cost $1 million will cost $10 million, and if they say it will take a year it takes five years."
He said CYF had already become more willing to share information with health workers and schools simply through "attitudinal change".
"If part of this was a legislative change that required CYF to share information with the schoolteachers and vice versa, then that may be just as effective, and cheaper than creating a whole new database," he said.
He was also surprised by the idea of taking the Child Protect line out of CYF on the basis that some people might be scared that CYF would remove children from their parents.
"It's like there has been a solution created to a problem that I don't think existed. If there was a problem, why were there 150,000 notifications to CYF in the last financial year?
"I think it potentially risks creating another barrier between a person who wishes to contact CYF, and CYF."