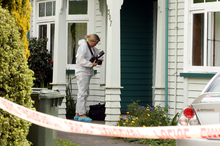 The Christchurch family of a man fatally stabbed in Hastings rushed to be by his side, but were too late to say goodbye.
Christopher Jones, 22, was taken to Hawke's Bay Hospital just after 2am on Saturday, with stab wounds to the stomach after an altercation at his flat in King St South. He underwent emergency surgery, but died about 9am. At their Lincoln home his mother, Sharon Jones, and stepfather, Carl Duxfield, received a chilling call in the middle of the night.
"We were phoned about 3.30am,'' Mr Duxfield said. "We just got up, packed some clothes and went to the airport to wait for the first flight up. But when we got there it was too late.''
The family, including Jones' sister Emma and stepsisters Holly and Rachael, returned to Christchurch in shock and were struggling to come to terms with the loss.
"It still doesn't feel real, it's been really hard. He was very outgoing, made friends easily, just what you would call an all round nice guy.''
A 22-year-old woman, believed to be engaged to Mr Jones, appeared in Hastings District Court yesterday charged with assault in relation to the incident. She was granted name suppression and did not enter a plea, before being released on bail to reappear on November 13.
Mr Duxfield said he and Ms Jones had met the woman in March.
"We didn't know [about the engagement] but last time we spoke to Chris he was all gaga and making noises about that.
"I would say Chris was definitely happy and she was nice. I mean if you thought there was something wrong you would say something. You don't expect anything like this.''
Mr Jones grew up in Christchurch and attended Lincoln High School, but moved to Hawkes Bay about 18 months ago.
"We have a saddlery so we were there for Horse of the Year. Chris always took his bike and he met some guys he liked with the same interests. When we went back to Christchurch he decided to go back up.''
In a phone conversation last Thursday, Mr Jones spoke to his family about booking flights to visit them in Christchurch before heading to Wanaka for a BMX event.
His funeral will be held in Christchurch tomorrow.
By Amy Shanks of the Hawke's Bay Today