Church expects members to rally round for work on project at new 'City of God' site.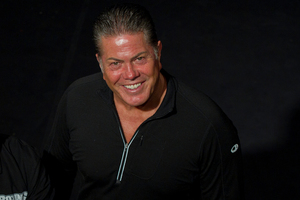 Destiny Church's Bishop Brian Tamaki is calling on hundreds of skilled tradespeople and labour from within church ranks to build a new school in two months over summer.
The church is moving from its Mt Wellington base to its "City of God" site at Druces Rd in Manukau.
The first stage includes a new auditorium, gym, administration and social service operations. However, the refit of a building in time for an early February school opening will be the priority from December 12 - the date the church takes possession.
A project manager is overseeing the development, which the church says it needs volunteers to build - a database puts the number at about 450.
"What we're expecting to see is a whole school pop up over a matter of months - I'm just so excited about what Destiny is going to do for the community and the country," Bishop Tamaki said.
The Destiny founder told the Herald the shift would bring the church closer to its members and closer to communities where it believed it could make a difference.
He expected the church, which he said had 2000 Auckland members, would grow by 15 per cent.
He would not say exactly what the move is costing, but it was a multimillion-dollar exercise.
Four years ago media reports said $2.4 million had been raised.
Bishop Tamaki mimicked violin music when asked about criticism over the past decade of the pressure on members to financially support Destiny, and complained of "biased, prejudiced" reporting.
"When you have the goals that Destiny Church has I need serious money. Hello, I'm open about that. But I know where we've got to today has not been through the taxpayer's money. There are plenty of other organisations that have been getting taxpayers' millions that I think should be far more accountable."
He believed Destiny's public image was changing, and only media were hung up about the 2004 Enough is Enough campaign, in which 5000 church members protested against civil union legislation.
Last year, his wife and church co-founder Hannah Tamaki was dumped from the Maori Women's Welfare League presidential race after concerns about a church takeover. And some lesbians and gays were angry that Maori MPs attended a Destiny service before the election.
"I've found generally out there people have changed," Bishop Tamaki said."They're more complimentary about the work we do. I've had people come up ... and say 'love your work, keep it up'. So I know perceptions are changing. We are still here because we're credible."
There are plans to compete for government contracts for social service provision, which would be a focus of the church's work in South Auckland.
Minister of Social Development Paula Bennett said last year Destiny had received $800,000 for the Community Max programme.
Another high-ranking Destiny official, Richard Lewis, told the Herald the church had reorganised its social service wing, appointing a new head as well as readying itself to introduce parenting, relationship mentoring and other support programmes.
He said Whanau Ora and justice were areas that could be targeted.
Destiny School
* Capacity for up to 250 students.
* New entrants to Year 14.
* On cusp of providing tertiary education.
* 450 volunteers sought to build school over summer in Druces Rd, Manukau