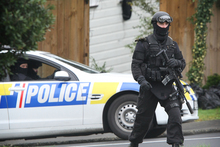 A 26-year old man has been taken into police custody after an armed offenders squad callout in Christchurch this afternoon.
Police responded to reports that a man at a Tuckers Road, Redwood, address had been seen with a firearm and was threatening a neighbour at midday today.
The man surrendered to police without incident and was taken into custody.
He is assisting police with enquiries, and no charges have yet been laid.
An air rifle was recovered from the property, police said.
- APNZ