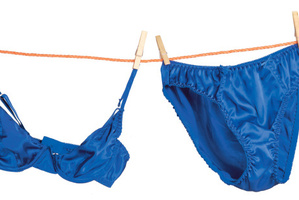 Queenstown Police are appealing for help catching a thief who has stolen women's clothing from an Arrowtown address - on two separate occasions.
Police said the offender had targeted the Hertford Street property twice in the past six months.
On the first occasion, reported to police in April, a number of articles of women's clothing, including undergarments, were taken from the washing line at the rear of the address over the Easter Weekend.
A dog collar and chain were also taken.
Police were called to the same address last weekend, after an offender entered the property's kitchen, again taking women's clothing, including undergarments.
Detective Sergeant Brian Cameron said police were concerned at what appears to a deliberate targeting of the victim and the escalation from a washing line theft to the deliberate entry into their home.
The incidents both fall at the end of the school term, however police would not speculate as to whether this was a coincidence or not.
"There are elements to these crimes which are very disturbing not only to the victim but also for the wider Arrowtown community. At this time there appears to be no particular reason why the victim has been singled out and it may be there are other similar incidents that have occurred but gone unreported," Mr Cameron said.
"I would expect that the wider community will be as concerned as police and that people will keep an eye out for suspicious activity not only on their own property but also that of their neighbours - someone has come home with articles of clothing that are foreign to them - we would like to find that person."
Anyone with information should contact Queenstown Police on 03 441 1600 or Crimestoppers anonymously on 0800 555 111.