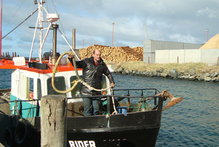 A Foveaux Strait tragedy survivor who owes his life to the Easy Rider's skipper says Rewai Karetai's widow is being unfairly scapegoated.
Mr Karetai was at the helm of the Easy Rider when it sank off the coast of Stewart Island on March 15, leading to eight deaths, including his own.
Maritime New Zealand yesterday laid five charges against Mr Karetai's widow, Gloria Davis, and five charges against her company AZ1 Enterprises, which operated the vessel.
Barry Bethune, who survived a capsize in the Foveaux Strait in January after Mr Karetai plucked him and two others from the icy water, said laying charges against Davis served no purpose.
"It's a bit off really. I mean, she's been through enough without being dragged through the courts now as well.
"At the end of the day, Rewai was the skipper - he was the one that was captain of the boat and decided to go."
Mr Bethune said Maritime NZ was "looking for a scapegoat".
"Rewai can't defend himself, so she's the next easiest target I guess."
He accepted Mr Karetai had not done everything by the book.
"But even if he's had a skipper's ticket, that's not going to stop them getting hit by a big wave or whatever and going down anyway."
Mr Bethune said a lot of people had lost family and friends in the Easy Rider tragedy.
"I'm sure most of those people think that it's a bit unfair pinning it all on her, really."
Mr Bethune, the twin brother of anti-whaling activist Pete Bethune, was among three survivors of a fishing boat that capsized on January 3.
He and two women in their 40s made it to nearby Ruapuke Island, but his 23-year-old son Shaun and best mate Lindsay Cullen, 59, did not survive.
After an almost five-hour ordeal, Mr Karetai rescued the survivors in a dinghy and helped carry them back to his camp.
Only one person survived the Easy Rider tragedy in March.
Dallas Reedy, 44, spent 18 hours in the water, clinging to an emptied petrol container, before being rescued.
The bodies of Shane Ronald Topi, 29, Boe Taikawa Gillies, 28, John Henry Karetai, 58, and Peter Glen Pekamu-Bloxham, 53, were recovered.
But the bodies of Rewai Karetai, 47, Paul Jason Fowler-Karetai, 40, David George Fowler, 50, and Odin Nirvana Karetai, 7, have never been never found.
Davis appeared in Invercargill District Court yesterday and was remanded to appear again later this month.
- APNZ
By Matthew Backhouse @Mbackhouse

Email

Matthew