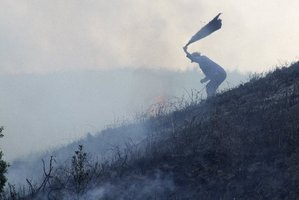 People used spades and sacks soaked in water to help stop the fire from advancing over Mokotahi Hill. Photo / Rhys Egan
About 20 Hawkes Bay residents fought an out of control fire with spades and chilly bins of water near Mahia Beach.
A rubbish fire which burnt out of control is thought to have started the blaze which ignited the scenic Mokotahi Hill yesterday.
Fire emergency services were alerted about 2pm and worked for over two hours near Newcastle St to bring the fire under control, using two rural fire trucks and a water tanker.
Mahia resident Rhys Egan, 16, lives about 1km from the hill and counted about 20 local people pitching in to help the fire service.
"My nephew came in to tell me there was a fire and I didn't believe him until I looked out the window and saw it happening.
"People that were living close-by ran out with spades to help put the fire out. One of the nearby baches had a chilly bin of water and people were using it to soak sacks to use on the fire."
Rhys said there were baches at the bottom of the hill but most were only occupied during the summer holiday period.
"One of the bach owners was staying directly beneath the fire," Rhys said. "It's been quite windy here, so the fire spread out a bit."
New Zealand Fire communications said the incident was listed initially as a rubbish fire. Witnesses believe it had spread out of control.
Department of Conservation East Coast rural fire management officer Malcolm Smith attended a separate fire on Saturday, 4km away, but still in the Mahia district.
"Last summer we had predictions of a bad fire season but it was probably one of the quietest. So what's in front of us this year, that's the million dollar question. We just have to be ready and be prepared."
for more articles from this region, go to HAWKES BAY TODAY